Laser hair reduction has, over the past few years, grown to become a sought-after solution for getting rid of unwanted body hair. And rightfully so. It is technology's answer to the bothers of unwanted body hair!

All of us struggle with grooming, amidst a hectic lifestyle, as is these days. Laser Hair Removal is a boon to men and women of these modern times, that completely pushes traditional methods of shaving, waxing or threading out the door! It is without a doubt, the best possible option for you to get rid of unwanted body hair, permanently.
It, however, comes with the heavy baggage of questions, doubts, myths, concerns on safety and effectiveness. While some are valid concerns, some are myths to be busted. We receive a lot of queries on these topics, over online forums and at our clinics.
So here we are, once again, with our 'Ask the Hair Expert' series; this time to address your queries on the safety of laser hair reduction treatment, whether it poses risks, how to approach it and also clarify how we can help you address your concerns on the subject!
You asked: "Is laser hair reduction safe? What complications or side effects that can arise from laser hair removal? What are the dangers of undergoing laser hair reduction treatment?"
Here's the answer from the Hair Experts.
Laser Hair Reduction is extremely safe.
The key to safety lies with where and how you get it done! And the care you take as you go through it!
So, let's first have a quick recap on how laser hair reduction works at large, and then move on to address your safety concerns.
How does laser hair reduction work?
Laser hair reduction is a cosmetic procedure, performed under medical supervision, that helps reduce the growth of unwanted hair. It is performed by a certified technician, under the guidance of a certified trichologist and uses a laser that directly targets the hair follicles to efficiently destroy them, with no harm to the surrounding skin. It uses a long pulse/ motion speed laser that is set according to your hair and skin type.
If you are someone who follows our blogs, you would have read our earlier discussions on the topic. To help you recall, laser hair reduction is basically selective photothermolysis. It targets the pigment melanin in the hair bulb and burns the papilla arresting the hair growth. This leads to permanent hair reduction over time. A person may need about 6-8 sittings, at intervals as prescribed, to permanently damage most of the hair follicles in the particular area being treated. Multiple sittings ensure that hair in all stages of the hair growth cycle is addressed.
Is Laser Hair Reduction safe? – Yes, absolutely!
It is one of the most convenient, hassle-free, economic and safe solutions to tackling the problem of unwanted body hair once and for all! It can be used to permanently reduce unwanted hair growth in any part of your body. Even on the sensitive parts such as your face and private parts!
Safety and effectiveness of the treatment – both boil down to the level of professional expertise and laser technology.
Unfortunately, the growing popularity of laser hair reduction has led to a number of salons, stand-alone technicians, self-styled clinics & 'experts' offering laser hair reduction as an extended 'service'. Here, the technology used, the knowledge/ expertise of the so-called-expert supervising the process and the proficiency of the technician performing the task are all questionable!
Let us reiterate here that laser hair reduction is a cosmetic process, yes, but it needs to be performed under medical supervision. It needs cognizance & analysis of one's medical history. Some disorders & medications have relative contraindications to Laser. A salon or spa employee will never ever be able to understand this. Your health is then at stake…
What are the common side-effects or complications of laser hair reduction?
Side effects or discomfort are normally localised, to the area of treatment. Complications can arise only when the execution of the administration process has gone wrong or pre/post-treatment advice hasn't been followed. Also, the result varies from person to person, largely due to the medical case history.
If you are someone who has certain medical conditions or has a hormonal imbalance, you may not find the treatment as effective. Further for some, the hair in certain areas of the body may be more resistant to the laser or may regrow after the treatment. However, the regrowth will be lighter and finer.
We will now list some common side effects and complications associated with the treatment. But remember, solid technology and expertise can help you avoid facing these concerns!
Numbness in the treated areas.
Skin burn, especially on tanned skin.
Temporary skin discomfort, pain.
Pigmentation – changes in skin & hair colour, though temporary.
Some rare side-effects that may be observed if administered without checking the medical case history and suitability:
Blistering, scarring, crusting or change in the texture of the skin.
Excessive hair growth in the area of treatment
It is also to be noted that the procedure is normally not recommended to be done around the eyes, due to the risk of eye injury. Further, as a precaution, standard clinics will make you cover your eyes with eye-gear to protect them from exposure. Laser hair reduction procedure is also not advised during pregnancy.
While we are on the topic of risks, here's another common question,
Can Laser hair reduction cause cancer and infertility?
No. That's a myth!
Laser technology is used for a variety of purposes. It is used to treat sun damage, wrinkles, certain hair treatments and even some certain forms of precancerous lesions. The equipment and technology used is different for each, and the energy levels used also varies. The lasers used for hair reduction and most other skin/hair procedures use a very minimal amount of radiation. Further, exposure is exacted on the surface of the skin only. It does not penetrate to any other organ. It thus poses no risk of cancer or infertility!
How can you ensure your safety?
Ideally, the laser hair reduction process should start with a detailed consultation with a medical professional, wherein your medical history is discussed in-depth, your hair growth is analysed and a good understanding of your lifestyle is drawn. The area from where you want your hair removed has to be thoroughly examined – the texture, colour of the hair and other relevant details. This is also an opportunity for you to clearly understand the technology that going to be used for the process, the hygiene condition of the clinic, their pre/post-treatment support, etc.
This consultation is the key to your safety. It helps the doctor, technician and most importantly – you, to understand the path forward. The number of sittings needed, energy level to be used to work on the hair follicle and the treatment schedule – all of this depends on the findings of this consultation.
When you go to a reputed clinic , that has trained & certified hair doctors to consult, the best & latest of technologies handled by professional technicians and the right environment to carry out the treatment sessions in a safe manner, you are ensuring that you are getting this done in the most efficient, result-oriented manner.
Choosing the right clinic and technologycan make all the difference!
Here's a simple list of Dos & Don'ts, before and after the treatment. These would help you get the desired results while ensuring your safety.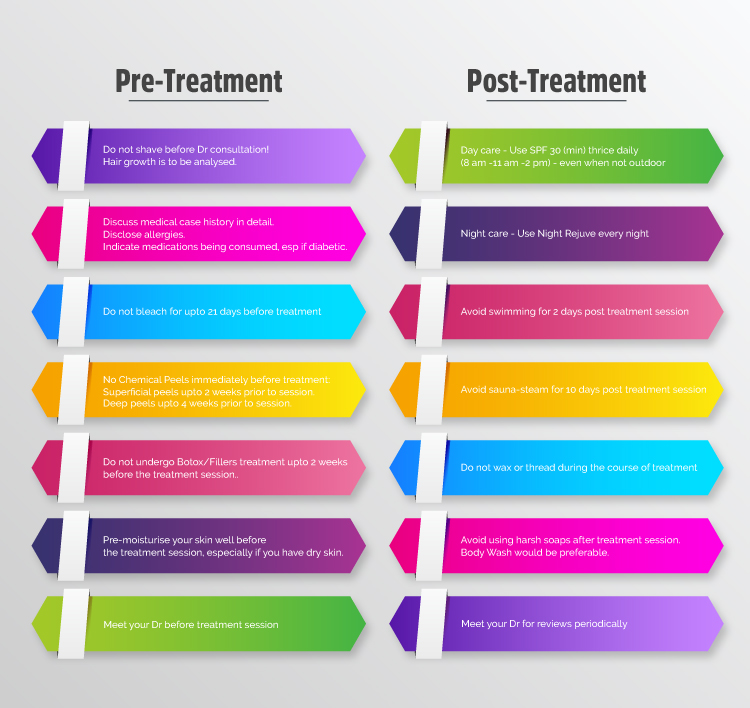 When you go to a reputed clinic and meet a trichologist, all of the above is explained, your doubts & worries are put to a logical end. The trichologist examines the hair using a Capilloscope, to understand the pattern and density of hair growth. This further helps set specific parameters for the session, to be used on the basis of your hair & skin type. This ensures optimum results without jeopardising your safety.
Also, as mentioned above, certain disorders and medical conditions have relative contraindications to laser; and it does not show results in some who suffer from certain hormonal disorders.Medical history is very important to be looked into! This is something only a trained medical professional can decipher. Not your beauty salon technician or 'expert'!
Trust we have put to rest your doubts and worries. Go for Laser Hair Reduction at the right place and be rid of unwanted body hair forever!
Do read more on the topic, on our laser hair reduction blogs, and for all things 'Hair', do follow our blogs on hair loss, hair care, treatments & solutions, and interesting hair trivia!
Connect with us on social media on the links below. Please leave your questions & comments, and we will address them all, just as we have done today!