Alopecia Areata is a very common form of hair loss recognised by dermatologists across the world. Earlier, Alopecia areata was believed to be a communicable disease or due to some infectious ailment. But now, it is understood as an autoimmune disorder which could have a much deeper origin than the superficial lesions. Though with this it has got a better prognosis and minimal chances of recurrence.
RichFeel trichology clinic has helped many people treat the bald patches, helping them regain their confidence and self-steem.
A good hair care clinic will advise you on how to treat Alopecia naturally, suggesting ways for the home care & life style management for Alopecia Areata, advising on medicines for Alopecia, scalp problems and making it an overall effective and dependable Alopecia treatment.
What is Alopecia Areata?
Alopecia Areata, also known as spot baldness, is a skin condition characterised by hair loss that causes distinctive bald patches. It causes loss of hair from scalp, face, and other parts of the body. Alopecia is an autoimmune disorder and occurs when the body's own defence system attacks some cells causing hair loss. For most people, the condition resolves on its own, but if not attended timely the hair loss is sometimes permanent. People who develop one or more bald patches on the scalp find it very unpleasant and suffer a lot of distress.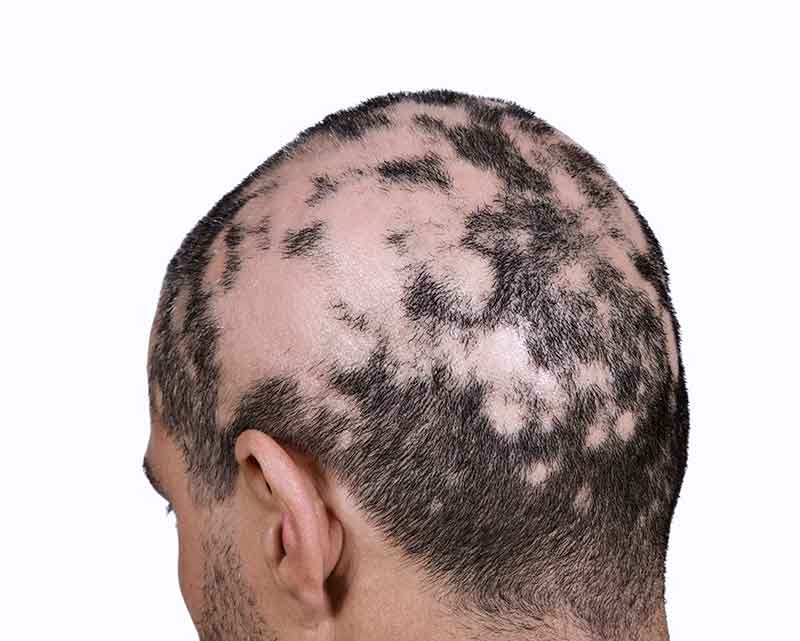 Signs & Symptoms Of Alopecia- Time For Call To Action For Alopecia Areata Cure
There are different Alopecia causes, but there are certain common signs and symptoms which can lead you to find an Alopecia Areata cure.
Sudden loss of hair is defined, usually small round patches in the beginning. Coin-sized patches of hair begin to fall.
Excessive hair-fall even on touch, or clumps of hair left on the pillow or in the shower.
Bald patches spread rapidly, and hair growth may be affected in other body areas including eyelashes and beard, for example.
A burning sensation or crawling sensation or itching on scalp or the body area before hair loss.
Chronic or extensive alopecia sometimes can be associated with pitting of nails.
What are the types of Alopecia?
Alopecia Areata commonly begins with small bald scalp patches. The hair loss can stay patchy or lead to complete loss of scalp hair, a condition defined as (Alopecia Totalis or AT). It can mean complete body hair loss, a condition identified as (Alopecia Universalis or AU). Another very peculiar type of Alopecia Areata is Alopecia Barbae, in which an individual suffers from facial hair loss only.
Risk Factors Associated With Alopecia
Genetics : If your parents have history of alopecia or any atopic disorder, you are at a high risk of suffering from Alopecia Areata. Family history of autoimmune disorders like SLE, RA, etc. also elevate the risk of developing Alopecia during your lifetime.
Hair care and styling : Use of harsh chemical through shampoos, hair colouring products or hair styling habits like using hair dryers can also increase the likelihood of Alopecia since these are found to be stressful to your hair & scalp.
Stress : Any exposure to unusual stressful factors like extreme weather conditions, etc. Emotional stress leading to use of anti-depressants or other medication increase the probability of getting Alopecia disorder.
Vaccination : Sometimes, particularly in children Alopecia is seen to develop post vaccination.
Viral infections : Viral infections can trigger alopecia areata.
Vit D deficiency : A study confirms that individuals with loe levels of Vit D are at high risk of developing alopecia.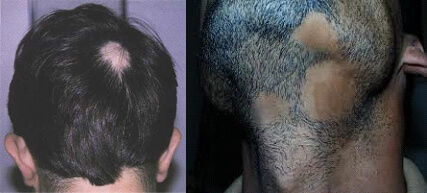 Alopecia Areata Cure- At Richfeel
The diagnosis of Alopecia and Diffuse Alopecia Areata depends majorly on clinical examination and hence Alopecia treatment is started immediately after the clinical examination. If needed, the trichologist may conduct Trichoanalysis. Since the disorder is fast spreading, it needs to be treated as early as possible.
Alopecia Treatment- Basic Approach At Richfeel
Detailed examination guides about the acute nature of the problem and its pace of
progression.
Capilloscopy is done to check follicular status and underlying scalp health.
In cases of developing alopecia, simple amino acids along with hair nutritive
supplements are prescribed.
Topical applications with the Trichoactive product are suggested.
The trichologist generally refrains from giving a lot of clinical therapies as the scalp is
very sensitive.
Home care may be suggested as the disorder needs a rigorous approach to arrest
the spread.
Frequent follow-ups are needed to monitor the response since the disorder is
unpredictable.
Dietary changes to improve immunity are recommended.
Avoiding animal proteins may also be suggested.
We do not believe in using steroids locally or internally but our focus is to correct the
problems in the immune system.
People who suffer from Alopecia Areata are also prescribed amino acid supplements containing L-tyrosine which reduces auto-inflammation.
Also, lifestyle factors such as diet and sleeping habits need to be considered while
dealing with Alopecia.
Since stress too is a contributing factor in non-scarring Alopecia, the person who suffers from it can consider going for yoga, meditation, or other relaxation therapies.
Camouflaging treatments in case of Alopeica Totails Or Alopecia Universalis
With Alopecia totalis and universalis a person loses entire scalp & body hair which is very depressing. Such cases can be helped with different camouflaging approach.
Non-Surgical Customized Hair Systems At RichFeel
Non-surgical hair camouflage systems are made from a special derma base which acts and feels just like a second skin. It is infused with best quality human hair, sourced from around the world. The base is light and permeable thus allowing your scalp to breathe. It's just like a second skin and seamlessly appears like one too. The hair infused into the system gives the effect of it growing right out of your scalp, just like your own natural hair would. The combined effect results into a product that not only looks natural but is comfortable and mostly undetectable to the world.
Our team of experts and stylists would also give you aftercare guidance to enable you to make the most of this new look when it comes to styling. We would also provide you with specially designed and formulated Hair Forever products like shampoos, conditioners, styling sprays, gels and scalp moisturisers specially formulated for hair systems that would enhance your experience in terms of comfort and styling. Thus you have great looking hair that you would love to flaunt and live your life with no limits.
Anacover : Instant permanent scalp cover technique from Isreal is brought to India with Richfeel. Special derma-pigments are used to create an illusion of hair follicle on scalp with a special instruments which create hair follicular simulation effect. One can also have eyebrows created with the help of Anacover.
How much does the Alopecia treatment cost?
The cost of Alopecia treatment at RichFeel depends on the type and severity of Alopecia. If you wish to know the cost of Alopecia treatment for your condition, book an appointment with us to meet our trichologists.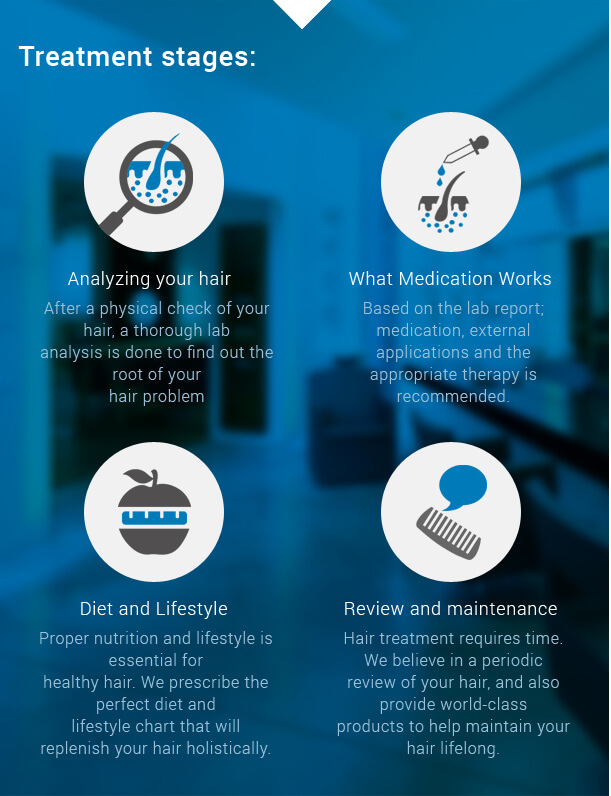 Book an appointment
Visit the nearest RichFeel clinic or call on +91 7900082222 to book an appointment with our expert Trichologists. Please submit your details below.