Non-Surgical hair restoration procedure
If you're in the latent stage of hair loss where there is a very large balding area to be covered, then our customized non-surgical hair systems could be the best option for you. Our non-surgical hair system allows you to achieve a head full of hair that looks natural, stylish and does not restrict your lifestyle. We have a system of analyzing your hair and scalp and, formulating a basis for the end result that would suit your expectation, in terms of age and style. Hence you are able to achieve the desired look and get an uncompromised result.
So how do you get a product that is not only best in the class but also matches the exact requirements?
At RichFeel Hair Forever, we take into consideration your expectations for achieving the desired results. We believe a hair replacement solution takes skill and artistry. For it to look close to natural and stylish, it has to be perfect in order to blend in with your existing hair. An entirely separate level of creative artistry comes into play when designing the right hair system for you.
Our team of experts would perform the analysis, take hair samples, understand the specifications and scalp condition. This forms the basis of determining the right customized system for you. This data is then sent to our International Design Centre. The International Design Centre then puts together this data to prepare a prototype. Best materials for the base and the hair are sourced from around the world and then your Hair Forever non-surgical system is designed. Quality checks ensure that you get the best in class product, which would define your final look. Once dispatched back to us, our talented and creative team of stylists would perform the final fitting, blending the system and hair length with yours, giving you the ultimate look you desire for various reasons.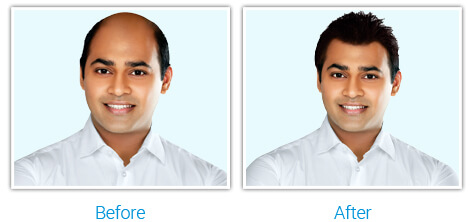 So Why Hair Forever Non-Surgical Customized Hair Systems?
Non-surgical hair camouflage systems are made from a special derma base which acts and feels just like a second skin. It is infused with best quality human hair, sourced from around the world or the finest quality synthetic hair made from high quality polymers. The base is light and permeable thus allowing your scalp to breathe. It's just like a second skin and seamlessly appears like one too. The hair infused into the system gives the effect of it growing right out of your scalp, just like your own natural hair would. The combined effect, results into a product that not only looks natural, but is comfortable and mostly undetectable to the world. Our Derma Hold technique of affixing the systems does not restrict your lifestyle.
Our team of experts and stylists would also give you aftercare guidance, which would enable you to make the most of this new look when it comes to styling. We would also provide you with specially designed and formulated Hair Forever products like shampoos, conditioners, styling sprays, gels and scalp moisturizers specially formulated for Hair Forever hair systems that would enhance your experience, in terms of comfort and styling. Thus you have great looking hair that you would love to flaunt and live your life with no limits.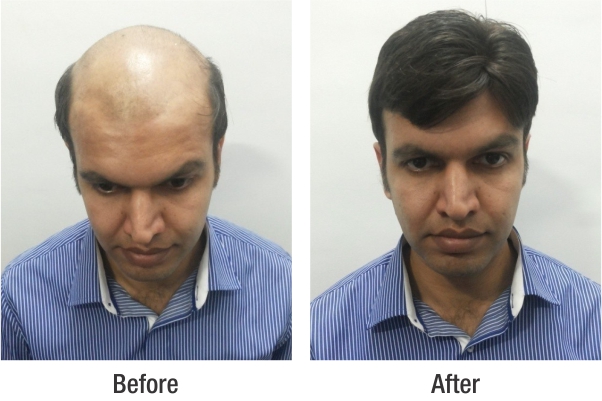 Mukul Mishra, Mumbai – Non Surgical treatment
When I applied for work as a Customer Service Executive with an MNC, I was elated, says Mukul Mishra, 25. I was always a people person and I thought that this job would be a cakewalk for me. But my hopes were dashed to the ground when my recruitment officer pointed out that they needed a 'young' looking candidate for the job. According to them, I looked at least 6 –7 years older than my actual age. And the culprit for this was my balding hair. Perhaps it was a curse of my genetics or something else...but the problem had to be addressed immediately otherwise, I would get the same response at each and every interview I would go to in the future. Obviously, the first thing I tried were over the counter hair oils and lotions. After which I also took medicines which were suggested to me by some doctors. But nothing seemed to help and as a last resort, I went to RichFeel Trichology Center after seeing their ad in the newspapers. When I went there, I expected them to suggest something like a hair transplant but I was pleasantly surprised to know that in my case, a simple non-surgical hair system would be more than enough to bring back my youthful looks.
Benefits of a System
There are so many patients who have reached almost very advanced stage of baldness in whom transplantation does not stand as a right treatment option and for them hair systems stands to be as the best option.
The qualities of a good Hair System are
1.The system should look absolutely natural in appearance. The system should be made of natural humar hair which is treated in such a way that the tangling of the hair should decrease to a great extent. Also the density, the texture the color and hairstyle of the system should match with the patient's original hair to give it a completely natural look. There are different HAIR SYSTEMS for men and women in terms of its length and hair style in the front region so that it appears completely natural.
2.The system should not give any limitation to one's life style.
3.The system should be prepared such that it should be adjustable to the climatic condition of the country.
4.The system should be of light weight so that it is a comfortable experience for the patient.
5.The system should have pores in it so that the sweat can easily pass through it which makes it breathable. This is a very important feature especially for the patients who reside in regions which has got hot and humid climatic conditions.
6.The system should be customized as per the wish of the patient that is he or she should have a choice in selecting the hair style and density as well as partition of the system so that the patient is completely satisfied.
Although many people now a days have started staying bald and take it as one of the hairstyles but it is always better to have hair on the head and the systems can fulfill this desire in the best manner.There are many types of hair systems (human hair wig) like the human hair welded lace wigs, swiss lace systems, super fine mono plus systems etc the best type of system can be suggested based on your scalp type.
It is always better for one to go for hair systems then going for weave extensions as there is a good chance of getting traction alopecia as a side-effect after wearing extensions for few years.The cost of Hair Systems depends upon its type and the length of the hair used in the systems.
Book an appointment
Please submit your details below.