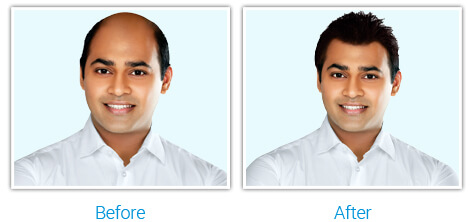 Non-Surgical hair restoration procedure
If you're in the latent stage of hair loss where there is a very large balding area to be covered, then our customized non-surgical hair systems could be the best option for you. Our non-surgical hair system allows you to achieve a head full of hair that looks natural, stylish and does not restrict your lifestyle. We have a system of analyzing your hair and scalp and, formulating a basis for the end result that would suit your expectation, in terms of age and style. Hence you are able to achieve the desired look and get an uncompromised result.
So how do you get a product that is not only best in the class but also matches the exact requirements?
At Richfeel Hair Forever, we take into consideration your expectations for achieving the desired results. We believe a hair replacement solution takes skill and artistry. For it to look close to natural and stylish, it has to be perfect in order to blend in with your existing hair. An entirely separate level of creative artistry comes into play when designing the right hair system for you.
Our team of experts would perform the analysis, take hair samples, understand the specifications and scalp condition. This forms the basis of determining the right customized system for you. This data is then sent to our International Design Centre. The International Design Centre then puts together this data to prepare a prototype. Best materials for the base and the hair are sourced from around the world and then your Hair Forever non-surgical system is designed. Quality checks ensure that you get the best in class product, which would define your final look. Once dispatched back to us, our talented and creative team of stylists would perform the final fitting, blending the system and hair length with yours, giving you the ultimate look you desire for various reasons.
So Why Hair Forever Non-Surgical Customized Hair Systems?
Non-surgical hair camouflage systems are made from a special derma base which acts and feels just like a second skin. It is infused with best quality human hair, sourced from around the world or the finest quality synthetic hair made from high quality polymers. The base is light and permeable thus allowing your scalp to breathe. It's just like a second skin and seamlessly appears like one too. The hair infused into the system gives the effect of it growing right out of your scalp, just like your own natural hair would. The combined effect, results into a product that not only looks natural, but is comfortable and mostly undetectable to the world. Our Derma Hold technique of affixing the systems does not restrict your lifestyle.
Our team of experts and stylists would also give you aftercare guidance, which would enable you to make the most of this new look when it comes to styling. We would also provide you with specially designed and formulated Hair Forever products like shampoos, conditioners, styling sprays, gels and scalp moisturizers specially formulated for Hair Forever hair systems that would enhance your experience, in terms of comfort and styling. Thus you have great looking hair that you would love to flaunt and live your life with no limits.
Book an appointment
Please submit your details below.