Are you going bald? It is devastating when somebody asks you this question. Hair loss is common, but if you are facing pattern baldness, it can have an impact on your self-confidence. Hair loss is not a domain of aging men only. It is a condition that can affect men and women equally at any age. But, if you are facing this condition at a younger age, it can cause extreme stress and anxiety. The good news is that there are expert solutions available to address all stages of baldness.
Let us first help you understand the various reasons that typically cause hair loss and baldness.
1) Hormonal Imbalance
Male pattern baldness is an irreversible, progressive disorder where recession and thinning of hair occurs at front areas of the hairline/ scalp. Nowadays, a large number of women lose their hair at a young age as well, which is called female pattern baldness, but it's at a slow rate. Stress, genetics and irregular lifestyles are some of the reasons that can cause this disorder.
2) Surrounding conditions
Many environmental and biological factors can cause hair loss. If you have some illnesses like Hypothyroidism, Vitamin B deficiency, PCOS and other such disorders, then you may face hair loss.
3) Treating your hair
Products that you use on your hair can make your hair weak or even fall out. So, you need to be careful on how much stress you're putting on your hair and scalp.
Baldness is a gradual process that can take several years. Here are signs that you should not ignore. The sooner you take action, the better!
1) Change in your hairline
The first signs appear across the frontal hairline. A flat hairline would turn into the V-shaped hairline or recession starts around temples. The best way to know is to take your recent photo and compare it with a picture taken several years ago. If you see a difference, then you are undoubtedly suffering from hair loss.
2) Notice thinning of hair
Some people experience excessive hair loss which affects their entire scalp or crown. For these people, baldness starts from back to front instead of the hairline. The best way to spot excessive hair loss is to compare the thickness of your hair from different time periods.
3) Increase in pillow or shower hair
On average, people lose 40-100 strands of hair per day, but you should be concerned if you notice excessive hair falling out through the day. You should seek help if the excessive hair loss is not happening due to traveling, weight loss or fever.
4) Itchy scalp
Itchy scalp is not the primary cause for baldness, but it can lead to an increase in hair fall. Skin oil keeps the hair healthy and moisturized, but overproduction can lead to clogging the hair follicles and result in hair loss.
5) You've checked other causes
Patchy hair loss can happen due to other reasons hence you should seek medical advice immediately and rule out the underlying cause. If you don't have any medical problem, then it could be a sign of baldness.
Let me tell you that you can confront this issue if you have complete knowledge. Click here for further understanding male or female pattern baldness.
Let us understand the various stages of Balding and how you can address it
Male pattern baldness has seven stages of baldness which starts either from temples or crown area and finally leaves a band of hair around the back and sides and baldness over rest of scalp.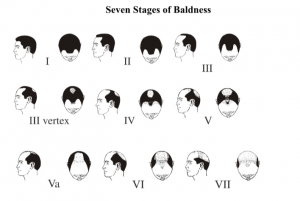 The key to treating baldness lies in early detection, followed by prevention and control which can postpone the inevitable for many years to come. The earlier you detect, the better you can handle it.
One of the easiest and hassle-free, natural, and non-invasive solution that is available are new-age revolutionary hair systems. These are highly evolved systems, made with 100% human hair, created and styled using a variety of bases, that help you choose the best system to continue your lifestyle routines, and stay confident to take on the world.
You usually believe that celebrities don't have any problems with baldness or hair loss because their hair always looks good, bouncy and healthy. The fact of the matter is, they watch out for signs and seek help to attack the problem at an early stage. Hair Systems are then customized, and their concerns are sorted. Further, the nature of our evolved systems helps them go undetected even under the severe eye of the cameras and lights!
Thus, having a headful of hair instantly is no more just a dream or something that holds for just celebrities, but is a reality that is within grasp for anyone. All you need to do is to consult a Trichologist at the right time. To know more about our hair systems, click here.
Next time when you look in a mirror and find any of the signs, don't hide away. Trichology and Hair systems exist so that you don't have to suffer in silence and shame. Did you find this article useful to understand if you are facing baldness? If yes, feel free to share.