Trichotillomania is an impulse-control ailment characterized by a recurrent hair pulling disorder, further resulting in visible hair loss. Symptoms usually worsen when an individual is under stress and therefore indulges in hair pulling. Some individuals, in general, have a hair pulling habit, they can be seen pulling or twisting their hair when they are bored or inactive or are engrossed in some activity such as studying, watching T.V., sometimes while bathing or in the toilet etc.
So is there a way to stop trichotillomania, or deliberately push people out of this hair pulling habit? Only when we know in detail about the trichotillomania causes shall we opt for treatment for trichotillomania or look for a solution on how to stop trichotillomania.
Before we begin the discussion on trichotillomania treatment or trichotillomania cure, let us find out more about the hair pulling habit, or the hair pulling disorder called Trichotillomania.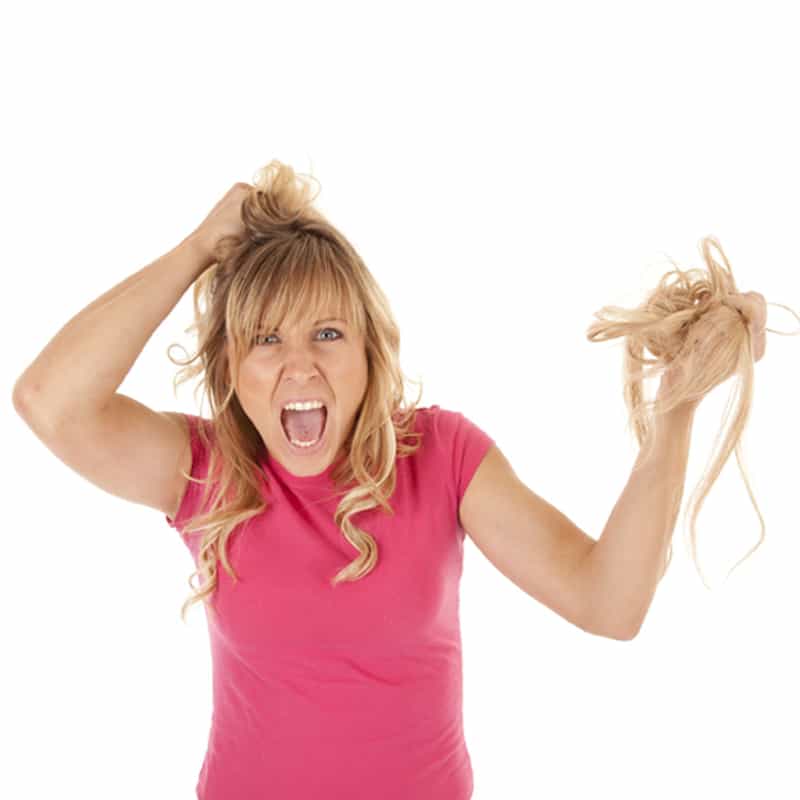 Signs & Symptoms Of Trichotillomania - Hair-pulling Disorder
Recurrent pulling out of hair by an individual which results in visible hair loss is clinically identified as a hair pulling disorder, or a case of the individual suffering from pulling hair habit.
An individual with hypertension or frequent sense of heightened tension may indulge in the habit of hair pulling.
Any individual who feels pleasure or relief when pulling out the hair is a case of pulling hair disorder as per the clinical standards.
Sometimes the patient does it in sleep and is unaware of, or denies any such habit but may complain of pain in the scalp and an appearance of a bald spot.
All the above-mentioned symptoms indicate a hair pulling habit or more severely, a hair pulling disorder calling for further action to identify trichotillomania causes and then take adequate steps for trichotillomania treatment and the best possible trichotillomania cure.
Risk Factors For Trichotillomania Causes either keep risk factors or causes- kept risk factors and made changes accordingly.
Stress is a prominent risk factor that may lead to the hair pulling habit and later, a hair-pulling disorder.
Individuals who remain anxious & nervous, or even introverts by nature are more likely to suffer from the hair pulling habit.
Trichotillomania Cure
Our Approach To Trichotillomania Treatment 
Since most of the trichotillomania causes indicate a psychosomatic disorder, we at RichFeel believe that every patient needs a lot of counselling so as to get rid of the initial-stage hair pulling habit with a potential to eventually cure the hair pulling disorder. If needed, internal supplements are given to support trichotillomania hair regrowth.
Our basic approach towards trichotillomania cure includes the following: 
A detailed case history gives a fair understanding of the stress levels. All important information is extracted to work out a personal plan on how to stop trichotillomania at an individual level. 
Clinical examination shows rough patches of hair loss and is an important step to diagnose individual trichotillomania causes and trichotillomania treatment by studying the pattern of pulling hair habit.
The trichotillomania causes and the problem are explained to the patient. If the patient is already aware of the pulling hair habit, he/she is explained what care he/she should take to help curb the habit. 
Simple proteins are used to initiate trichotillomania hair regrowth which is also helpful in reducing stress levels and help deal with the hair pulling habit. 
Certain precautions are given to the patient which is an integrated part of the trichotillomania cure at RichFeel. An individual's family is guided on how to support the patient to overcome the trichotillomania causes.
Trichotillomania Hair Regrowth
Some of the precautions on how to stop trichotillomania through effective assessment (by family, friends or trichologists ) include:
Positive reinforcement by giving them attention.
Watching out for self-injurious behavior.
Recognizing stress symptoms instantly.
Identifying impulse control disorders.
Recognizing symptoms of attention-seeking behavior, demanding behavior, lack of involvement or activity.
Trichotillomania Treatment
Habit reversal training :
This behavior therapy is the primary treatment for trichotillomania. You learn how to recognize situations where you're likely to pull your hair and how to substitute other behaviors instead. For example, you might clench your fists to help stop the urge or redirect your hand from your hair to your ear. Other therapies may be used along with habit reversal training.
Acceptance and commitment therapy :
This therapy can help you learn to deal with your hair-pulling urges without acting on them.
Stress-reducing therapies :
This therapy helps with other mental health disorders often associated with trichotillomania, such as depression, anxiety or substance abuse, and can be an important part of treatment.
Book an appointment
Visit the nearest RichFeel clinic or call on +91 7900082222 to book an appointment with our expert Trichologists. Please submit your details below.