About Richfeel : The Journey of Richfeel started with two visionaries Dr. Apoorva Shah and Dr. Sonal Shah, India's first certified trichologists, who in 1986 ventured into the profession of hair and scalp care treatments and pioneered the science of Trichology in India. As of now Richfeel operates at 83 centers spread across India.
Richfeel & Its Promoters Have received many prestigious awards in the segment of Hair Care in both National & International Categories. Recent one to add in feather of Richfeel brand is "India's Most Trusted Hair Care Brand" – 2014
Richfeel is the only brand dedicated to offer solutions to kind of Hair & Scalp Related solutions, based on clinical diagnosis under one roof.
Richfeel Has also expanded its presence into Wellness market with Its SPA & Pioneered Trichology Medical Education in India for Doctors.
Why Should You Become A Richfeel Investor?
Investor Owned & Company Operated Model (Investment only option)
Investment: 60 Lacs
Average Monthly Return: Rs. 1.37 Lakhs
Tenure: 84 months
Total Fixed Return for 84 months: Rs. 1.15 Cr
Interest Income for 84 months: Rs. 30 Lakhs
Income Tax: Rs. 33 Lakhs
Net Amount: Rs. 1.12 Cr.
Interest: 21% reducing balance
Double Your Income in 7 Years
Why Partner with Richfeel?
India's Leading Chain of Hair & Scalp Clinics, 30+ yrs Brand Experience
Only player with a dedicated solution for Hair & Scalp Problems
Backed by leading Healthcare PE fund Fulcrum and media conglomerate BCCL
Servicing investors as committed - 4 happy investors in FOCO model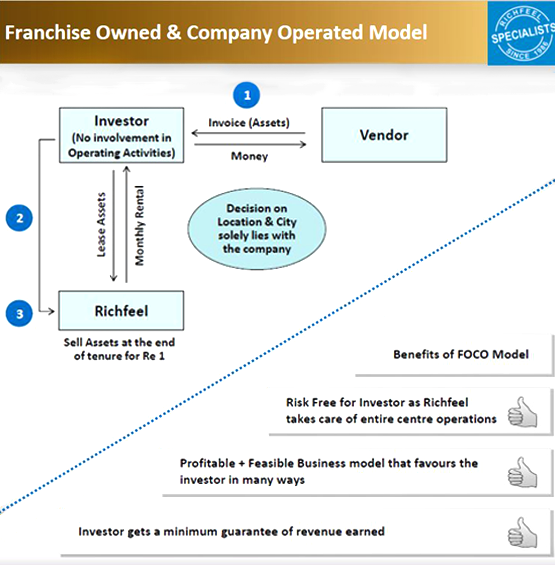 For More Details, Kindly fill up below given form & we will soon get back to you:
For Franchise Enquiry,
---
Contact:
Mr.Rishiraj Singh ( Franchise Head )

  +91 - 22 - 25628600 (Extn 1081)
franchiseenquiry@richfeel.com
Mon to Sat : 10 AM to 6:30 PM