Scarce hair or baldness in men and its effect on self-esteem or confidence, how one reacts to the same, is a much discussed subject. When a man starts losing hair, he faces a variety of questions, is barged with recommendations, remedies, suggestions on doctors and more. This can be very annoying and rather depressing, leading to a hasty hunt for solutions. Wigs and other non-invasive solutions are typically the first options considered.
Though today we look at wigs or non-surgical hair systems as one of the modern solutions for baldness, history of wigs goes way back.
Men have been using different types of wigs or hair extensions to either hide or cover their baldness, and also to establish their designation in society since long. Fashion wigs were also a part of routine life style. The undying desire to look and feel good has been fueling the hair extensions industry and pushing it to continuously evolve in terms of the solutions on offer. Gone are the days of tacky unnatural looking wigs that often get compared to having a bird's nest over the head! Hair systems are the order of the day. While many use the words wigs and hair systems interchangeably, there is a vast difference between them. Let us try and understand this…
What is a Hair System? How different are these from wigs?
Hair system is a non surgical hair restoration technique. The systems are made from a special derma base which acts and feels just like a second skin. It is infused with best quality human hair sourced from around the world. So it is completely unrecognizable even from up close.
Wigs on the other hand are rudimentary and unsophisticated. The black net used with synthetic fibers attached for hair look tacky, unnatural and uncool. Hair systems are a much more evolved solution for men facing baldness.
Can any hair replacement system ever truly look and feel natural? – Yes!
The best feature of a hair system is the freedom it provides. There are no limitations or restrictions on lifestyle & routines, unlike when one uses wigs. One can play a sport, swim, ride bikes and do anything else one wants while wearing these. It is as close to natural hair as one can get!
The bases used are extremely light weight, thin and permeable, hence scalp remains well ventilated. The base is so fine that even when hair flips open with wind, your skin can be seen through it, as against the standard wigs, that use very visible black nets as base. Many celebrities use hair systems as even the close camera shots cannot capture the difference!
The hair used in these systems are chemically treated human hair which do not tangle and can be styled like your own hair. This is impossible with wigs as the woven hair is made of nylon or synthetic fiber threads. It is a known fact that wigs remain fixed in style and look extremely unnatural.
Hair systems created by hair experts in specialised clinics such as RichFeel, help one choose from a variety of custom hair systems with different bases, that would suit individual lifestyles, unlike mass-produced systems and wigs sold across. These are made from 100% human hair, unlike many others in the market. Highly skilled hairdressers help in finding the right fit, style and further help in the maintenance of the systems.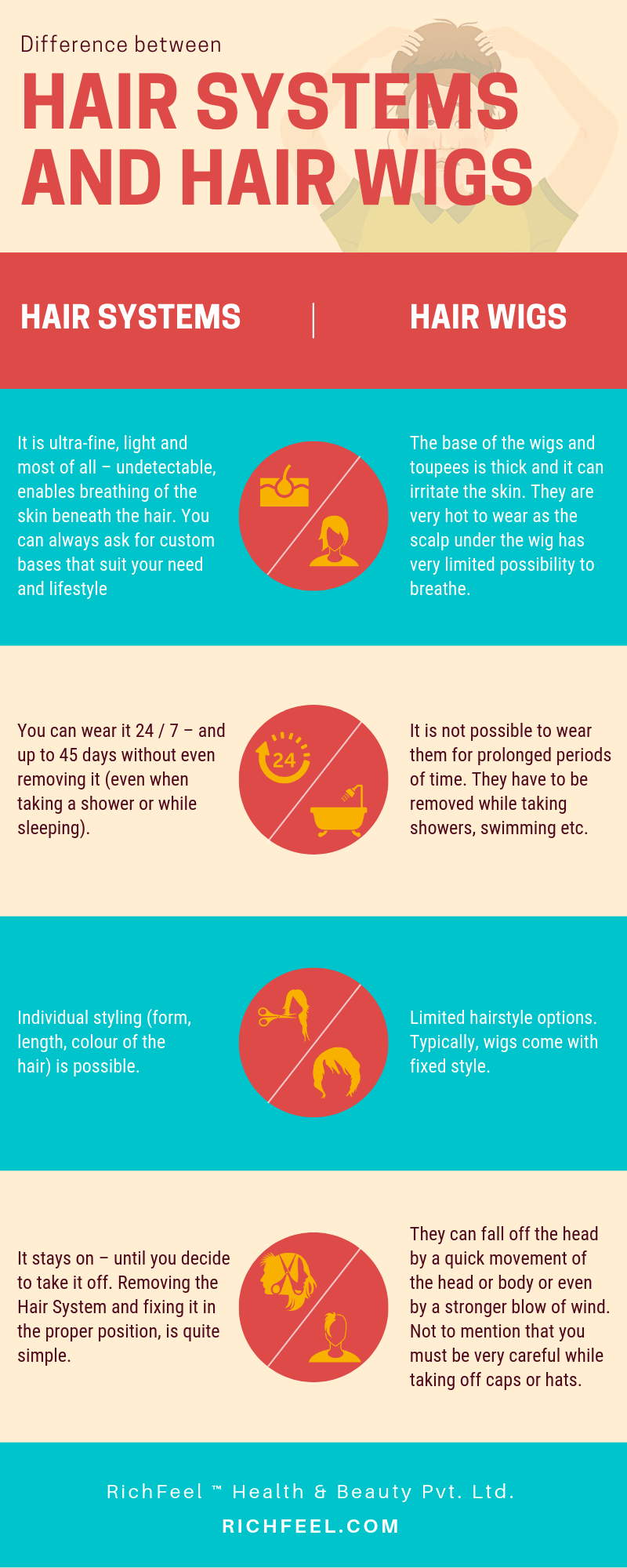 So, going to back to our question – which is a better option – wigs or hair Systems? Hair systems of course! While both are made to serve the same purpose, that is to cover up baldness, hair systems offer huge advantages that wigs cannot compete with!
Having a headful of natural looking hair instantly, is not just a dream anymore but a reality.
Look good, look natural and feel confident with hair systems.