Hair Transplant :
Surgical hair restoration works essentially by extracting hair from a hair-loss resistant area and planting them on the recipient's balding area. At RichFeel, we practices latest techniques comprising of the FUE (Follicular Unit Extraction), allows individual hair to be extracted directly out of the donor area, which can then be implanted in the donor site, thus changing the way hair transplant surgeries are performed.
Address
Richfeel Trichology Centre, Madhuban, Udaipur
Address : 1B 17 C, Kutumb apartment, Madhuban, Near rahat hospital, Udaipur -313 001
Phone : +917900082222
Email : [email protected]
Clinic Timings : Monday to Sunday 10:00 - 20:00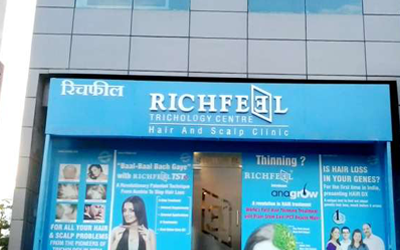 Book an appointment
Please submit your details below.
Treatment provided at the center
Hair Transplant
For those who are suffering from hair loss, we recommend Hair Transplant surgery. It is also called the Asthetic Hair Transplant.
Anagrow - Hair Thinning Treatment
The PCT Rejuva Max extract is pushed into the hair follicles using the RF Anagrow 10 x machine, to help fight the five signs of thinning.
TST +Hair Fall Treatment
TST+ is a revolutionary, first-of-its -kind patented technique from Austria devised by Dr. Emil Vodder that uses manual lymph drainage for detoxification and rejuvenation of hair follicles.
Anagain - Hair Loss Treatment
Fight Hair Loss With The world's first Hair Fertility Treatment For Men Richfeel Anagain.
The RichFeel Advantage
India's most trusted Hair Care Brand as per Brand Trust Report
Special Patented pen from AHI London to create natural looking hairline and avoid pitting
Use of patented mechanized extractor to ensure minimal scaring
Awarded as India's best Hair Restoration Services provider by Frost & Sullivan