EXPLORE ANACOVER - PERMANENT SCALP COVER
RichFeel Ana-Cover – Instant Permanent Scalp Cover – A Technique from Israel Introducing for the First Time in India.
RichFeel Anacover. A global revolution in hair treatment.
RichFeel Anacover, the revolutionary Instant Permanent Scalp Cover (IPSC) from Israel, is RichFeel's latest innovation in the field of hair and scalp care. Anacover is a highly advanced modern hair and scalp treatment for those wishing to restore the look of their scalp, suffering from general hair loss, various forms of Alopecia and even those looking to camouflage scalp scars.
Anacover uses the IPSC technique from Israel, a highly advanced 2-hour modern hair treatment procedure, which provides an instant, state-of-the-art permanent scalp cover that is both non-invasive as well as hassle free. It's much more than a hair loss treatment; it's a new way of life.
---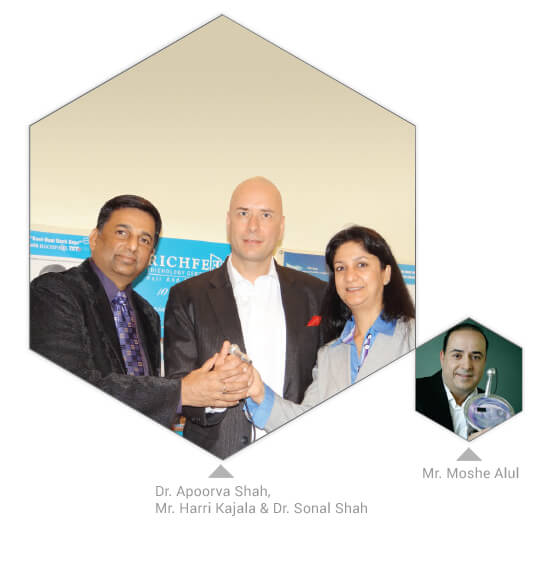 Early stages of baldness in women
Late stages of baldness in men where they would like to maintain a fashionable crew cut
Scars due to accidents, by birth or hair transplant strip method
Hair transplant cases where desired density has not been achieved
WHAT DOES ANACOVER DO?
RichFeel Anacover technique is a highly advanced form of pigmentation. An expert Trichologist applies a highly specialised Derma Colour through different needle sizes, penetration depths, angles, and distribution rates depending on the specific area of the scalp being treated at the time, the skin tone of the individual and the desired final appearance.
The needles for this technique do not penetrate as deeply as they do with some other techniques, and the pigments are thoroughly tested, not tattoo inks that bleed or change colour.
THE ANACOVER PROCEDURE
RichFeel Anacover is applied over 1 or 2 sessions to create the most natural appearance possible. The treatments are conducted in a safe, sterile environment involving a single-use roller with a unique specification. The pigments are specially formulated in Israel and available in different shades to achieve the perfect blend of shades that can exactly match your remaining 'real' hair.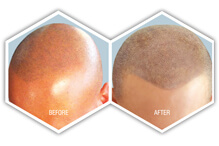 FROM MALE PATTERN BALDNESS TO NO BALDNESS
Anacover works as a perfect solution to counter the late stages of baldness in men, where they would like to maintain a fashionable crew cut.
ACHIEVING THE DESIRED DENSITY FOR HAIR THINNING PATIENTS
Camouflage Scars on the Scalp
Anacover helps to successfully cover up & camouflage scars from surgeries or injuries on the scalp.
TOTAL RELIEF FROM ALOPECIA TOTALIS
For people suffering from Alopecia Totalis (complete hair loss), Anacover works within the upper dermis of the skin and replicates real shaven hair follicle, providing an unmatched illusion of a real head of hair.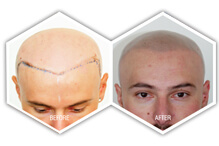 ACHIEVE FULLER EYEBROWS
Anacover helps achieve fuller eyebrows for those who generally have sparse eyebrows and those who have lost their eyebrows due to medical conditions such as alopecia universalis. It works within the upper dermis of the skin and replicates real eyebrow, providing an unmatched illusion.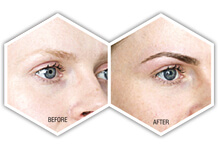 Book an appointment
Please submit your details below.