At RichFeel, we perform hair transplant, non surgical hair restoration, Icecube Cool laser hair reduction, Anagrow, Anacover, Anagain and Ana-D-Tox treatment using the latest techniques. We are committed to delivering great outcome to our patients.
What is Hair Transplant?
Hair transplant is a surgical method that includes relocation of hair follicles from back of scalp and implanting them in the hairless region. Hair transplant technique is permanent and can be done in two ways, Strip Harvesting and Follicular Hair Transplantation (FUT). FUT is highly invasive and leaves behind linear scar. The patients need to take rest for 8 - 10 days after undergoing the FUT procedure. The 'Aesthetic Hair Implants- AHI' technique available at RichFeel's Malnaka clinic is a remarkable hair transplantation method, which doesn't cause any pain or scarring on the patient's scalp.
How is it done at RichFeel
The AHI technique available at RichFeel's Malanka clinic implants almost 60 - 70 hair grafts per sq. cm. as compared to 30 - 35 grafts per sq. cm. in a standard hair transplant method. Hence, you can get the whole procedure done in just one day. Moreover, unlike traditional methods, AHI leaves minimal to no linear scarring, and you will see remarkable results in only 8-10 months. Hair transplanted through AHI provides every patient with a more natural and consistent look.
Address
RichFeel Trichology Center, Malnaka, Ratnagiri
Address : Office Space No 1 & 2, First Floor, Surve Sadan, Malnaka, Police Head Quarters, Ratnagiri, Maharashtra 415612
Phone : +917900082222
Email : [email protected]
Clinic Timings : Monday to Sunday 10:00 - 20:00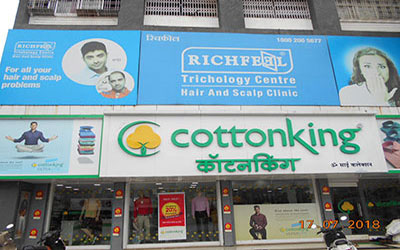 Cost
The final cost of the procedure at RichFeel's Malnaka clinic is based on the number of hair follicles being inserted into your scalp. Once you get a consultation done at the RichFeel clinic in Malnaka, a specialist from our team will help you determine the full cost of your procedure.
About Malnaka Location
To arrive at our Malnaka clinic, the location is Office Space No 1 & 2, First Floor, Surve Sadan, Malnaka. The nearest landmark to the Malnaka RichFeel clinic is Indian Overseas Bank. We are open seven days a week from 10AM - 8PM. RichFeel has many centres in India, customers from locations such as Oswal Nagar, Rajiwada, and Adampur visit the Malnaka RichFeel centre. If you are travelling via bus, the closest bus stop is Maruti Mandir bus stand. Customers can also take a taxi to reach the Malnaka clinic.
Book an appointment
Please submit your details below.
The RichFeel Advantage
India's most trusted Hair Care Brand as per Brand Trust Report
Special Patented pen from AHI London to create natural looking hairline and avoid pitting
Use of patented mechanized extractor to ensure minimal scaring
Awarded as India's best Hair Restoration Services provider by Frost & Sullivan
Treatment carried out by experienced and hair & scalp specialists.
1,00,000+
NUMBER OF HAPPY CUSTOMERS
Book an appointment
Please submit your details below.
Treatment provided at the center