At RichFeel, we perform hair transplant, non surgical hair restoration, Icecube Cool laser hair reduction, Anagrow, Anacover, Anagain and Ana-D-Tox treatment using the latest techniques. We are committed to delivering great outcome to our patients.
What is Hair Transplant?
Compared to various surgical methods, hair transplants are simplistic and demand minimal recovery time. A hair transplant is a corrective procedure where the follicular grafts are extracted from a healthy section of the scalp and implanted in the balding region. The surgery is relatively safe as the process is carried out under local anesthesia. Modern hair transplantation techniques give a completely natural look to the hair and have similar longevity. RichFeel along with Ailesbury Hair Clinic of London designed the 'Aesthetic Hair Implants- AHI' technique for the first time in India. After undergoing the AHI method available at RichFeel's clinic in Rajapul, the patient can return to their normal day-to-day activities just one day after the surgery.
How is it done at RichFeel
The 'Aesthetic Hair Implants - AHI' technique available at RichFeel's Rajapul clinic is a surgical hair restoration system, which utilises a licensed mechanised extractor to implant about 3000 - 5000 follicular grafts in just one session. The pen punches minute grafts of 0.5 - 0.8 mm in diameter, which are much tinier than the conventional methods, leaving minimal to no scope of scarring. The implanted hair grow just like natural hair and stay with you permanently. You can see the results of a hair transplantation within 6 - 8 months.
Address
RichFeel Trichology Center, Rajapul, Patna
Address : 1st Floor, Sharma Sadan, Rajapul, Boring Canal Road, Durja, Near to KFC, Buddha Colony, Patna, Bihar 800001
Phone : +917900082222
Email : [email protected]
Clinic Timings : Monday to Sunday 10:00 - 20:00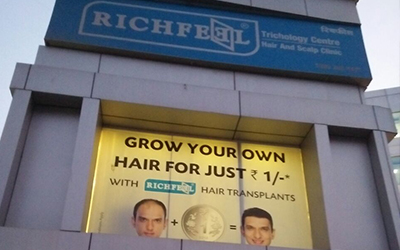 Cost
The cost you pay for the hair transplant is equal to the follicular grafts being implanted in your scalp. Once you get a consultation done at the RichFeel clinic in Rajapul, our team of specialists will help you determine the full cost of your procedure.
About Rajapul Location
To arrive at our Rajapul clinic, the location is 1st Floor, Sharma Sadan, Rajapul, Boring Canal Road, Durja, Patna. The nearest landmark to the Rajapul RichFeel clinic is Vasundhara Metro Mall. We are open seven days a week from 10AM - 8PM. RichFeel has many centres in India, customers from locations such as Nehru Nagar, West Anand Puri, and Gandhi Nagar visit the Rajapul RichFeel centre. If you are travelling via bus, the closest bus stop is Rajapur Pul bus stop. Customers can also take a cab to reach the Rajapul clinic.
Book an appointment
Please submit your details below.
The RichFeel Advantage
India's most trusted Hair Care Brand as per Brand Trust Report
Special Patented pen from AHI London to create natural looking hairline and avoid pitting
Use of patented mechanized extractor to ensure minimal scaring
Awarded as India's best Hair Restoration Services provider by Frost & Sullivan
Treatment carried out by experienced and hair & scalp specialists.
1,00,000+
NUMBER OF HAPPY CUSTOMERS
Book an appointment
Please submit your details below.
Treatment provided at the center