A typical day at our clinics involves seeing a broad spectrum of patients with different types of hair and scalp problems. People of different genders, backgrounds, lifestyles, occupations and each with a hair/scalp condition that's different from the next!
Every hair has a story to say! And at RichFeel, it is our endeavour to ensure that each story has a happy ending! And this has been the mission for 38 years now! We have been a part of many journeys and have been able to change the stories for many, for the better.
Today, we bring to you excerpts from our discussions with one of our patients, who had a life-changing experience with RichFeel Hair Transplant.
Modern lifestyle and the pressures it brings with it are a stressful challenge. As life goes down, it pulls your hair down as well! Can you believe, our studies have shown that 6 out of every 10 men have a tendency to go bald?!
Many choose to ignore it, resigning to it, enduring all that that may come along with it…denying that it has any effect on their life. But given the advancements of trichology, when you choose to not endure it, you don't have to! The call, however, is yours to take. And it has to be a conscious, informed call at that.
Recognizing the condition he was in, considering it as an issue that he didn't want to endure or ignore, our patient Mr.Kedar Mulmule stepped into action – to get his crowning glory back… to get his life back, with the confidence he wanted himself to have.
And RichFeel was part of this life-changing journey of his, every step of the way. Read on to know what problems he faced in life because of premature balding, how he decided to undergo hair transplantation, what made him choose RichFeel as the right place for the surgery and so on…
What problems did you largely face because of premature baldness?
I was in my late teens when I started experiencing hair fall. In the beginning, I thought it's a mere hair loss problem which everyone talks about. I didn't even think much over this as I was in college and had studies to focus on.
However, the problem escalated as I aged. As we neared graduation, there was a fair difference between my friends' and my hairline. I tried picking serious some hair care routines, followed haircare advice, tried every shampoo and oil in the market, and even tried some treatments at salons. But I quickly realised that I was getting nowhere with any of it…
I would feel awkward, not attend public events, avoid situations where people picked topics of physical appearances. Some people even assumed that I was older than I looked. It was embarrassing, to say the least.
As years passed, I started turning sensitive, stopped talking to friends and meeting new people. My family became sceptical if I would ever get married and if any girl would want to marry me in the first place…I lost all my self-confidence and went into severe depression! I later understood that thanks to my baldness I had slipped into having many symptoms of body dysmorphic disorder.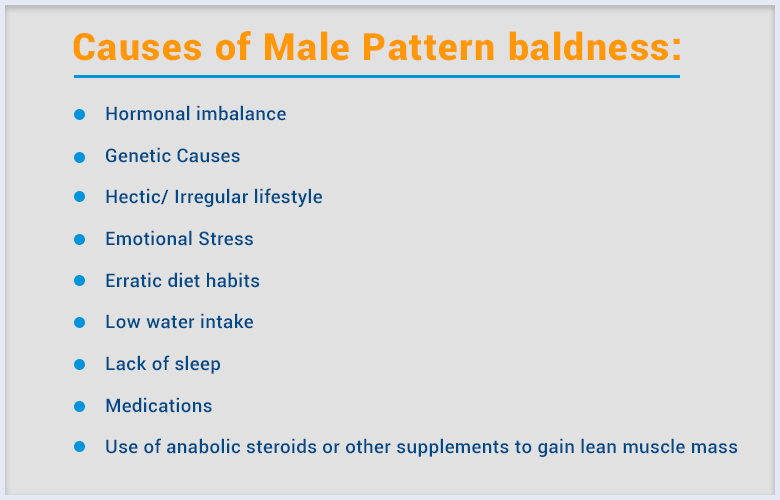 How did you come across RichFeel Trichology?
It was in a casual conversation with one of my best friends that I heard about RichFeel Trichology Centre. My friend was undergoing Tricho Scalp Treatment Plus (TST+) there and was very impressed with the results. He also spoke highly of the trichologists, about the kind of advice he got from the clinic on general health upkeep and also about how it was the best place to get any hair concern checked – even if I don't opt to go further with anything for my baldness! It would be worth the shot, I thought. Following his suggestion, I booked an appointment with their trichologist in one of my nearest RichFeel clinic locations.
What made you opt for a Hair Transplant at RichFeel?
When I visited, I was asked to undergo their basic Hair & Scalp diagnosis, which helps understand the root cause. It turned out that I had a condition called male pattern baldness – irreversible hair loss – which couldn't be resolved with generic treatments but needed specialised care.
Surgical hair restoration – Hair Transplant – was recommended to me. It was a big deal… Multiple questions pop up as you hear 'Hair Transplant', keeping aside the thought of actually undergoing it. The decision would have a direct impact in every segment of my life, physically, emotionally, financially, socially and what not!
What made me take my final decision and choose RichFeel for the treatment was the trust and confidence it built in me through the time of my discussions with the trichologist and surgeon. My doctor was always there to answer my queries, was open and transparent to speak about pre and post expectations & effects of the surgery, no matter the number of times I perhaps asked the same doubts! Never once was it insisted upon me, to go ahead for the surgery. But only merely discussed. No pressure. Not a step, until I was fully confident. It was a very well-informed, conscious decision from my side, aided by very capable people at the RichFeel clinic.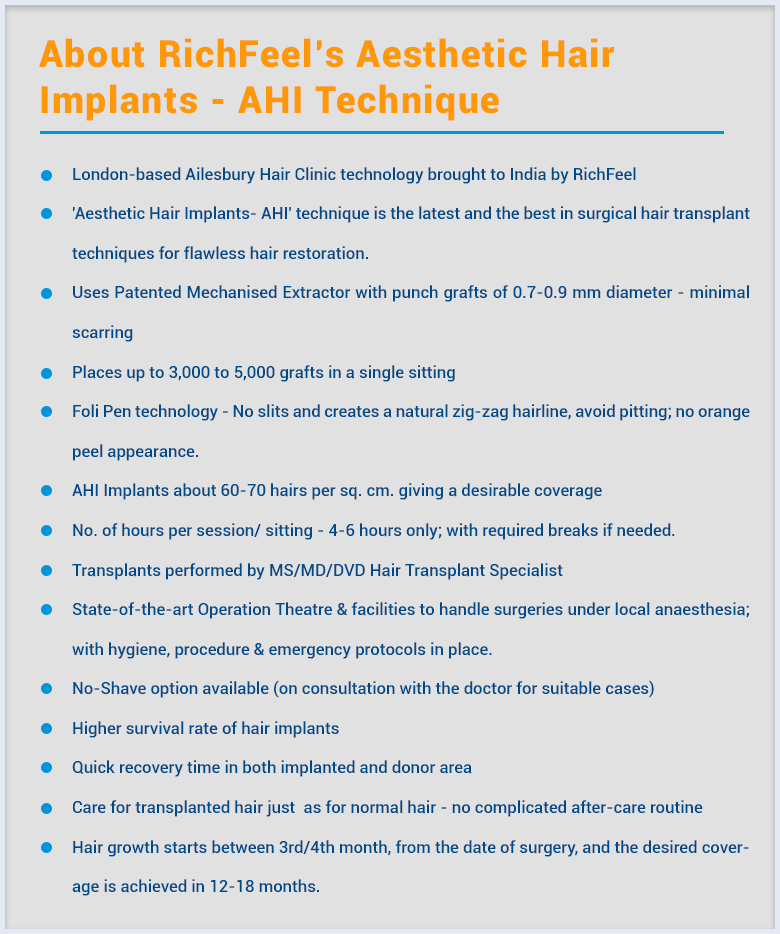 *You can also read our blog on AHI Hair Transplant to understand the topic in depth.
Tell us about your experience with the surgery – concerns, comfort, results/deliverables, side-effects, post-surgery care
I had a very comfortable, virtually painless, surgery. There were no major complications involved, thanks to RichFeel's unique AHI technology used for hair transplantation, and the very able surgeon plus the team that helped me through it.
I had had queries about when the implanted hair would start to grow, if my hairline would look natural, whether I can treat it as my normal hair, any scars that I may have, any side-effects I need to watch out for, etc. – All of these questions were put to rest, with clear explanations from my trichologist.
He ensured that I was given full details of pre, during and post-procedure. He was very well qualified and astute at understanding the needs and the condition of his patients; and extremely skilled to take away all their concerns by providing appropriate knowledge and information over the topic. It hardly took me 3 sittings to get my frontal hairline back in shape. The deliverables were exactly as was promised to me. Though I felt a bit uncomfortable and conscious about my appearance while heading out soon after my first surgery, the confidence started booting up after 3 months – when the implanted hair started growing and how!
Share your insights about the AHI Technique
It is quite natural that anybody would want to choose the right clinic and method to ensure he gets desired results. When I started my search about the method that RichFeel practices for Hair Transplantation, I came across the word Aesthetic Hair Implants – AHI technique. I must say, with being the latest, it is one of the best techniques used for surgical hair transplants. It placed up to 3,000 to 5,000 hairs in a single sitting.
I was scared that there will be slits made on my hairline and what if the scars remain, but RichFeel's Foli Pen technology was the answer to all concerns. No slits, minimal negligible scarring and I had a flawless hair restoration experience with a quick recovery in both implanted and donor areas!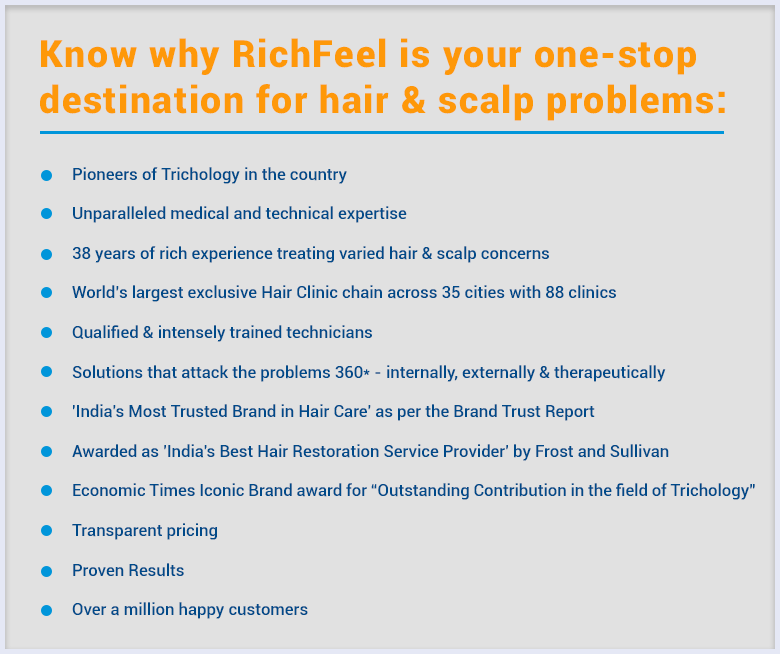 Was the decision of going for Hair Transplant with RichFeel worth it? (one major change felt in life)
Hair Transplant is one such decision where anyone would want to choose a clinic that offers you services backed by high medical expertise, intensely trained surgeons, best-in-class technology and state-of-the-art operation theatre facilities. Also, it should be equally accountable for post-operative care, guidance in maintaining the overall health of hair & scalp, while ensuring that the end results of the transplant/restoration are satisfactory. Honestly, to me, RichFeel was all this and more!
It was totally worth stepping into RichFeel. I no more feel conscious about meeting new people or heading out for family gatherings. Nor do I avoid conversations related to external appearances. A change in my hairline turned my perception positive. Unlike earlier, I can now look up to myself without any doubts and carry on my lifestyle just like the next person. I am now a self-confident man with a full life.
Did Mr.Kedar's experience strike a chord in you somewhere? Have you been denying yourself the care and guidance that you need? You are just a call away from some genuine help.
From solving very basic Hair & Scalp problems to offering advanced surgical and non-surgical solutions & treatments, RichFeel's journey has been a tale of touching lives, helping to overcome incredible problems and situations. From controlling hair loss to fighting baldness, anyone consulting RichFeel is assured appropriate customised treatments with breakthrough technology, especially Hair Transplants. Do read our pages on all things Hair and Hair Transplants.
Hope this has been helpful in getting you to take that step forward, to get freedom from baldness forever!
Do book an appointment with our trichologist to have an in-depth conversation about your Hair & Scalp problems and find suitable solutions for the same. Do keep an eye out on our blogs for interesting information on hair care, hair loss, treatments and more.
You can also follow us on social media platforms to keep in touch and get helpful doses of information as and when you feel like!