At RichFeel, we perform hair transplant, non surgical hair restoration, Icecube Cool laser hair reduction, Anagrow, Anacover, Anagain and Ana-D-Tox treatment using the latest techniques. We are committed to delivering great outcome to our patients.
What is Hair Transplant
As opposed to different cosmetic surgical procedures, hair transplants are moderately simple and demand minimal recovery time. The surgery is reasonably safe as the method is carried out under local anaesthesia, and doesn't incur any severe complications. There is no requirement for any long-term medications, and the only post-operative care is to keep your scalp away from direct contact with water. The 'Aesthetic Hair Implants- AHI' technique available at RichFeel's clinic in Manpada is an advancement in the hair restoration industry. After undergoing the AHI procedure, the patients can resume their normal day-to-day activities just after one day of the surgery.
How is it done at RichFeel
The 'Aesthetic Hair Implants- AHI' available at RichFeel's Manpada clinic is a minimally invasive technique compared to the traditional Follicular Unit Extraction (FUE) technique. The FUE method is hugely invasive and gives several linear scars. In AHI, specialists utilise a licensed mechanised extractor with tiny punches of 0.5-0.8 mm in diameter, which speeds up the process by removing a high number of hair grafts in a short period of time.
Address
RichFeel Trichology Center, Manpada, Mumbai
Address : Shop No 103 - 104, Soham Plaza, Near Manpada Signal, Above Bikaner sweet Manpada, Bhavani Nagar, Thane West, Thane, Maharashtra 400607
Phone : +917900082222
Email : [email protected]
Clinic Timings : Monday to Sunday 10:00 - 20:00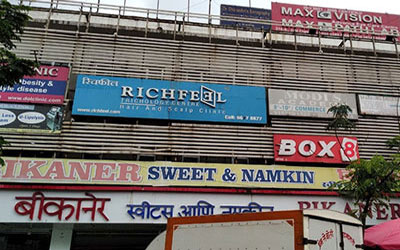 Book an appointment
Please submit your details below.
Cost
The cost of hair transplant is not fixed as it depends on the number of grafts and per graft cost. You can know the exact value of the whole procedure by consulting a specialist at RichFeel's Manpada clinic.
About Manpada Location
To arrive at our Manpada clinic, the location is Shop No 103-104, Soham Plaza, Bhavani Nagar, Thane West, Thane. The nearest landmark to the Manpada RichFeel clinic is Bikaner Snack & Sweets Shop. We are open seven days a week from 10AM-8PM. RichFeel has many centres in Mumbai, customers from locations such as Chitalsar, Kokanipada, and Manorama Nagar visit the Manpada RichFeel centre. If you are travelling via bus, the closest bus stop is Manpada, and customers can also take a taxi to reach the Manpada clinic.
The RichFeel Advantage
India's most trusted Hair Care Brand as per Brand Trust Report
Special Patented pen from AHI London to create natural looking hairline and avoid pitting
Use of patented mechanized extractor to ensure minimal scaring
Awarded as India's best Hair Restoration Services provider by Frost & Sullivan
Treatment carried out by experienced and hair care expert
1,00,000+
NUMBER OF HAPPY CUSTOMERS
Book an appointment
Please submit your details below.
Treatment provided at the center