At RichFeel, we perform hair transplant, non surgical hair restoration, Icecube Cool laser hair reduction, Anagrow, Anacover, Anagain and Ana-D-Tox treatment using the latest techniques. We are committed to delivering great outcome to our patients.
What is Hair Transplant
Hair transplants can be effective treatments for permanent hair loss. Hair Transplant is a surgical procedure to extract hair follicles from a healthy part of the scalp (generally the side or the back) and implant them in the region with less hair or bald patches. The 'Aesthetic Hair Implants- AHI' available at RichFeel's clinic in Mulund is a permanent solution for hair loss, which restores an individual's hairline and improves their appearance or grooming choices.
How is it done at RichFeel
Available at RichFeel's Mulund clinic, the 'Aesthetic Hair Implants- AHI' technique is a hair restoration process where a mechanised extractor pen is used to insert about 3000 - 5000 hair follicles. The extraction and implantation process doesn't give any scars, and there is no requirement for post-operative medical care or elaborate medication. The transplanted hair starts growing after 3 months at the rate of 1 cm/month.
Address
RichFeel Trichology Center, Mulund, Mumbai
Address : 554/D, Ground Floor, Friends C.H Education Charity Trust LBS marg, Opp.Vasant Oscar,Behind Dunncan Company Bus stop, Asha Nagar, Mulund West, Mumbai, Maharashtra 400080
Phone : +917900082222
Email : [email protected]
Clinic Timings : Monday to Sunday 10:00 - 20:00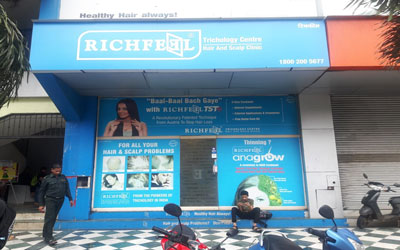 Book an appointment
Please submit your details below.
Cost
The final price at RichFeel's Mulund clinic depends on your exact surgery - which is personalised. Book an appointment, and a specialist from our team will get in touch with you to discuss your hair loss problem.
About Mulund Location
To arrive at our Mulund clinic, the location is 554/D, Ground Floor, Friends C.H Education Charity Trust LBS Marg, Asha Nagar, Mulund West. The nearest landmark to the Mulund RichFeel clinic is Friends Academy. We are open seven days a week from 10AM-8PM. RichFeel has many centres in Mumbai, customers from locations such as Sarvodaya Nagar, Azad Nagar, and Salpa Devi Pada visit the Mulund RichFeel centre. If you are travelling via bus, the nearest bus stop is Duncan Company, and if you are taking the local train, then you can get down at the Mulund station. Customers can also take a taxi to reach the Mulund clinic.
The RichFeel Advantage
India's most trusted Hair Care Brand as per Brand Trust Report
Special Patented pen from AHI London to create natural looking hairline and avoid pitting
Use of patented mechanized extractor to ensure minimal scaring
Awarded as India's best Hair Restoration Services provider by Frost & Sullivan
Treatment carried out by experienced and hair care specialist.
1,00,000+
NUMBER OF HAPPY CUSTOMERS
Book an appointment
Please submit your details below.
Treatment provided at the center