At RichFeel, we perform hair transplant, non surgical hair restoration, Icecube Cool laser hair reduction, Anagrow, Anacover, Anagain and Ana-D-Tox treatment using the latest techniques. We are committed to delivering great outcome to our patients.
What is Hair Transplant
Loss of hair due to androgenic alopecia is a condition that affects men as well as women. Hair transplantation involving surgical methods is one of the best ways of restoring the hair that is lost in pattern baldness. The procedure has become very common in recent years. It is a surgical method that transfers the hair follicles from one part of your scalp, also called as the 'donor site' to a balding region of your scalp, which is known as the 'recipient site'. The 'Aesthetic Hair Implants- AHI' technique is a permanent answer for hair loss and hair fall, and you can avail it at RichFeel's clinic in Dombivli.
How is it done at RichFeel
Compared to 35-45 grafts per sq. cm. in a conventional hair transplant technique, the 'Aesthetic Hair Implants- AHI' technique available at RichFeel's Dombivli clinic implants approximately 60-70 hairs per sq. cm, hence giving clients a more consistent and natural look. Furthermore, the survival rate and regrowth of the transplanted hair is better in the AHI technique, and you can see excellent results in only 8-10 months of the procedure.
Address
RichFeel Trichology Center, Dombivli , Mumbai
Address : Shop no 14 & 15, Laxmi Baug CHSL, Village - Navagaon, Near Ganpati Mandir, Phadke Road, Next to Chit Chat Shop, Pendse Nagar, Dombivli East, Dombivli (East), Maharashtra 421201
Phone : +917900082222
Email : [email protected]
Clinic Timings : Monday to Sunday 10:00 - 20:00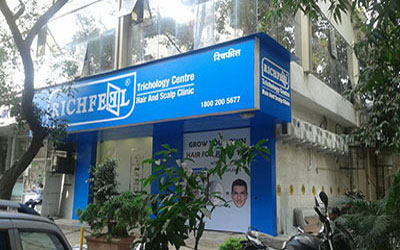 Book an appointment
Please submit your details below.
Hair Transplant Cost in Dombivli
The RichFeel's Dombivli clinic offers the best affordable price of hair transplantation, and an experienced surgeon performs the procedure with proper equipment. Just book an appointment, and we will get in touch with you to address your hair problem.
About RichFeel Dombivli Clinic
To arrive at our Dombivli clinic, the location is Shop no. 14 & 15, Laxmi Baug CHSL, Village - Navagaon, Phadke Road, Dombivli (East). The nearest landmark to the Dombivli RichFeel clinic is Ganpati Mandir, next to Chit Chat Shop. We are open seven days a week from 10AM-8PM. RichFeel has many centres in Mumbai, customers from locations such as Thakurli, Trimurti Nagar, and Ramnagar visit the Dombivli RichFeel centre. If you are travelling via bus, the nearest bus stop is Municipal Hospital, and if you are taking the local train, then you can get down at the Dombivli station. Customers can also take a taxi to reach the Dombivli clinic.
The RichFeel Advantage
India's most trusted Hair Care Brand as per Brand Trust Report
Special Patented pen from AHI London to create natural looking hairline and avoid pitting
Use of patented mechanized extractor to ensure minimal scaring
Awarded as India's best Hair Restoration Services provider by Frost & Sullivan
Treatment carried out by experienced and hair care experts.
1,00,000+
NUMBER OF HAPPY CUSTOMERS
Book an appointment
Please submit your details below.
Treatment provided at the center