At RichFeel, we perform hair transplant, non surgical hair restoration, Icecube Cool laser hair reduction, Anagrow, Anacover, Anagain and Ana-D-Tox treatment using the latest techniques. We are committed to delivering great outcome to our patients.
Address
RichFeel Trichology Center, Himayat Nagar, Hyderabad
Address : Door No. 3-6, Flat No.101/102, Victory Vision Towers, Opp. More Supermarket, Himayath Nagar, Ap State Housing Board, Himayat Nagar, Hyderabad, Telangana 500029, India
Phone : +917900082222
Email : customercare@richfeel.com
Clinic Timings : Monday to Sunday 10:00 - 20:00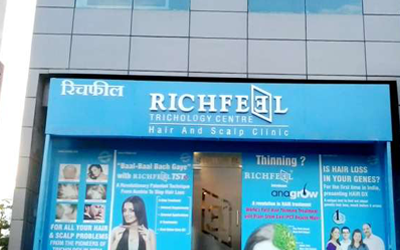 Book an appointment
Please submit your details below.
Treatment provided at the center
The RichFeel Advantage
India's most trusted Hair Care Brand as per Brand Trust Report
Special Patented pen from AHI London to create natural looking hairline and avoid pitting
Use of patented mechanized extractor to ensure minimal scaring
Awarded as India's best Hair Restoration Services provider by Frost & Sullivan
Treatment carried out by experienced and certified trichologists.
Book an appointment
Please submit your details below.