At RichFeel, we perform hair transplant, non surgical hair restoration, Icecube Cool laser hair reduction, Anagrow, Anacover, Anagain and Ana-D-Tox treatment using the latest techniques. We are committed to delivering great outcome to our patients.
What is Hair Transplant
In a hair transplant, a specialist transfers follicular grafts from a region where hair is more fertile and less likely to fall to an area where hair is thinning or missing. This sets stability on the scalp where the hair growth is made even; thus a natural looking head of hair is achieved. RichFeel in collaboration with Ailesbury Hair Clinic of London designed the 'Aesthetic Hair Implants- AHI' technique, which is one of the most revolutionary technologies accessible in the hair restoration industry. You can avail this hair transplant technique at RichFeel's Banjara Hills clinic.
How is it done at RichFeel?
The 'Aesthetic Hair Implants- AHI' technique available at RichFeel's Banjara Hills clinic is a hair restoration process where a patented extractor pen is used to implant approximately 3000 - 5000 hair follicles depending on the kind of appearance you want to achieve. The extraction and implantation processes used in AHI technique doesn't lead to any marks, and the patients do not require any critical medical care or extensive medication after the surgery. The transplanted hair starts growing after 3 months at the rate of ½ cm/month. The survival rate and growth of the transplanted hair is better in the AHI technique, and you will see great results in just 6 - 8 months.
Address
RichFeel Trichology Center, Banjara Hills, Hyderabad
Address : 8-2-598/a/2, Plot No. 484, Road No. 10, Banjara Hills, Opp. To Gaffar Khan Colony, Banjara Hills, Hyderabad, Telangana 500034, India
Phone : +917900082222
Email : [email protected]
Clinic Timings : Monday to Sunday 10:00 - 20:00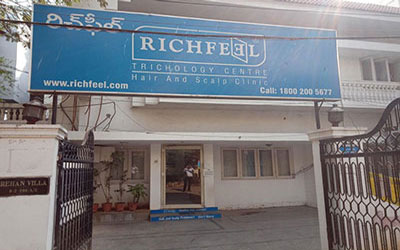 Book an appointment
Please submit your details below.
Hair Transplant Cost In Banjara Hills
To determine the cost of the hair transplant, you can book an appointment with the specialist at RichFeel's Banjara Hills clinic. The price will vary according to the number of hair grafts being implanted.
About Banjara Hills Location
To arrive at our Banjara Hills clinic, the location is 8-2-598/A/2, Plot No. 484, Road No. 10, Opposite to Gaffar Khan Colony, Banjara Hills. The nearest landmark to the Banjara Hills RichFeel clinic is Gold Saloon. We are open seven days a week from 10AM-8PM. RichFeel has many centres in Hyderabad, customers from locations such as Vimal Nagar, Naveen Nagar, and Resham Bagh visit the Banjara Hills RichFeel centre. If you are travelling via bus, the closest bus stop is Zaheer Nagar. Customers can also take a cab to reach the Banjara Hills clinic.
The RichFeel Advantage
India's most trusted Hair Care Brand as per Brand Trust Report
Special Patented pen from AHI London to create natural looking hairline and avoid pitting
Use of patented mechanized extractor to ensure minimal scaring
Awarded as India's best Hair Restoration Services provider by Frost & Sullivan
Treatment carried out by experienced and hair & scalp specialist.
1,00,000+
NUMBER OF HAPPY CUSTOMERS
Book an appointment
Please submit your details below.
Treatment provided at the center