At RichFeel, we perform hair transplant, non surgical hair restoration, Icecube Cool laser hair reduction, Anagrow, Anacover, Anagain and Ana-D-Tox treatment using the latest techniques. We are committed to delivering great outcome to our patients.
What is Hair Transplant
Many people face excessive hair loss and hair thinning on the crown of the head, and if you want a permanent solution for your cosmetic needs, visit the RichFeel clinic in Rajouri Garden. Directly imported from Europe, the 'Aesthetic Hair Implants- AHI' utilised by RichFeel is the most advanced surgical technique in hair restoration. In a hair transplant, hair follicles are grafted from one region of the head to another area where the hair is receding or thinning. Hair transplant is a surgery that can be performed on both men and women irrespective of their skin tone.
How is it done at RichFeel
The 'Aesthetic Hair Implants- AHI' technique available at RichFeel's Rajouri Garden clinic is a surgical hair restoration technique which works by extracting hair from a hair loss resistant area and strategically planting them on the beneficiary's bald spot. The hair that is implanted grows significantly and stays with you almost forever. You can see the results within 8-10 months plus the technique gives no visible cuts or scars. The whole procedure is personalised, and RichFeel doesn't have any hidden charges.
Address
RichFeel Trichology Center, Rajouri Garden, Delhi
Address : J-1/162a, First Floor,, Block J, Rajouri Garden, New Delhi, Delhi 110027, India
Phone : +917900082222
Email : [email protected]
Clinic Timings : Monday to Sunday 10:00 - 20:00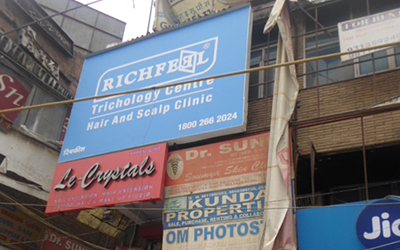 Book an appointment
Please submit your details below.
Hair Transplant Cost In Rajouri Garden
The cost you pay for the hair transplant in RichFeel's Rajouri Garden clinic is directly proportional to the area being covered. The specialist can help you determine the exact number of hair which will be required to cover your bald spots.
About Rajouri Garden Location
To arrive at our Rajouri Garden clinic, the location is J-1/162A, First Floor, Rajouri Garden. The nearest landmark to the Rajouri Garden RichFeel clinic is Vishal Mega Mart. We are open seven days a week from 10AM-8PM. RichFeel has many centres in Delhi NCR, customers from locations such as Ramesh Nagar, Mansarover Garden, and Sharda Puri visit the Rajouri Garden RichFeel centre. If you are travelling via bus, the closest bus stop is Rajouri Garden, and if you are taking the Metro, then you can get down at the Rajouri Garden metro station. Customers can also take a taxi to reach the Rajouri Garden clinic.
The RichFeel Advantage
India's most trusted Hair Care Brand as per Brand Trust Report
Special Patented pen from AHI London to create natural looking hairline and avoid pitting
Use of patented mechanized extractor to ensure minimal scaring
Awarded as India's best Hair Restoration Services provider by Frost & Sullivan
Treatment carried out by experienced and hair & scalp specialists.
1,00,000+
NUMBER OF HAPPY CUSTOMERS
Book an appointment
Please submit your details below.
Treatment provided at the center