At RichFeel, we perform hair transplant, non surgical hair restoration, Icecube Cool laser hair reduction, Anagrow, Anacover, Anagain and Ana-D-Tox treatment using the latest techniques. We are committed to delivering great outcome to our patients.
What is Hair Transplant?
Hair transplant is a cosmetic surgery that is performed to restore lost hair due to pattern baldness. In this process, the hair follicles are relocated from the donor site to the recipient site which brings a long-term and permanent solution for all those people who are experiencing hair loss and baldness. Hair transplantation can be done with FUT which is, cutting away a strip of skin with hair follicles and suturing the rest the two ends together. This procedures is rarely used now as it leads to pain and scarring. The 'Aesthetic Hair Implants - AHI' available at Richfeel's clinic in Subhash Road is a painless solution for hair loss and a definite advancement over the traditional methods as it delivers a painless hair transplant.
How is it done at Richfeel?
The experts at Richfeel's clinic in Subhash Road utilise 'Aesthetic Hair Implants - AHI' technique, which is one of the best methods to transplant hair and cure baldness. It works by extracting hair follicles from the side or back of the scalp of the patient and implanting them on the bald site. AHI is a highly accurate and less time-consuming process as the experts use a mechanised extractor pen. You don't require medical aid and elaborate aftercare post the procedure, and the hair implants will not only grow but, also stay with you for a lifetime.
Address
RichFeel Trichology Center, Subhash Road, Dehradun
Address : 33, Subhash Road, Near SBI Main Branch, Race Course, Dehradun, Uttarakhand 248001 India
Phone : +917900082222
Email : [email protected]
Clinic Timings : Monday to Sunday 10:00 - 20:00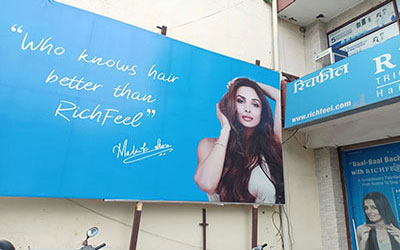 Book an appointment
Please submit your details below.
Hair Transplant Cost In Subhash Road
The two chief factors that determine the value of the transplant are the number of follicular grafts that are to be transplanted and the area on the scalp that needs hair transplantation. You can know the exact cost of your procedure by consulting our team of experts at the Subhash Road clinic.
About Subhash Road Location
To arrive at our Subhash Road clinic, the location is 33, Subhash Road, Near SBI Main Branch, Dehradun. The nearest landmark to the Subhash Road RichFeel clinic is The Times of India Office. We are open seven days a week from 10AM - 8PM. RichFeel has many centres in India, customers from locations such as Lunia Mohalla, Paltan Bazaar, and Dalanwala visit the Subhash Road RichFeel centre. If you are travelling via bus, the closest bus stop is Shastradhara bus stand. Customers can also take a cab to reach the Subhash Road clinic.
The RichFeel Advantage
India's most trusted Hair Care Brand as per Brand Trust Report
Special Patented pen from AHI London to create natural looking hairline and avoid pitting
Use of patented mechanized extractor to ensure minimal scaring
Awarded as India's best Hair Restoration Services provider by Frost & Sullivan
Treatment carried out by experienced and hair & scalp specialists.
1,00,000+
NUMBER OF HAPPY CUSTOMERS
Book an appointment
Please submit your details below.
Treatment provided at the center