At RichFeel, we perform hair transplant, non surgical hair restoration, Icecube Cool laser hair reduction, Anagrow, Anacover, Anagain and Ana-D-Tox treatment using the latest techniques. We are committed to delivering great outcome to our patients.
What is Hair Transplant
Hair transplant is a surgical method that includes relocation of hair follicles from back of scalp to the hairless region on scalp. The AHI technique is a remarkable hair transplantation method, which doesn't incur any pain or scarring on the patient's scalp. This is 'Aesthetic Hair Implants- AHI' technique available at RichFeel's Satya Nagar clinic.
How is it done at RichFeel
Hair transplants can be a permanent solution to your hair loss problem. The 'Aesthetic Hair Implants- AHI' available at RichFeel's Satya Nagar clinic is an advanced technique as opposed to the conventional Follicular Unit Extraction (FUE) technique. In AHI, specialists make use of a patented mechanised extractor which pierces tiny holes of 0.5 - 0.8 mm diameter which is much smaller than the FUE technique leaving no scope of scarring. The pen utilised in AHI technique also speeds up the process by transferring a high number of follicular grafts in a short period of time.
Address
RichFeel Trichology Center, Bhubaneswar
Address : Third Floor, Pnr Tower, Janpath, Satya Nagar, Bhubaneswar, Bhubaneswar, Odisha 751007 India
Phone : +917900082222
Email : [email protected]
Clinic Timings : Monday to Sunday 10:00 - 20:00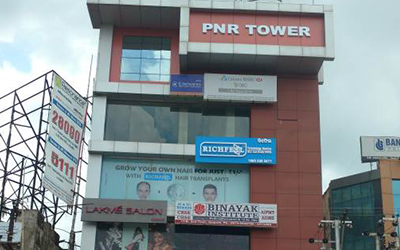 Book an appointment
Please submit your details below.
Hair Transplant Cost In Satya Nagar
The total cost of the hair transplantation can be determined once you get a detailed consultation done at the RichFeel Satya Nagar clinic. It is customised for every person, and you just need to book an appointment to get the best guidance from the trichologists.
About Satya Nagar Location
To arrive at our Satya Nagar clinic, the location is Third Floor, PNR Tower, Janpath Road, Satya Nagar, Bhubaneswar. The nearest landmark to the Satya Nagar RichFeel clinic is Bandhan Bank. We are open seven days a week from 10AM - 8PM. RichFeel has many centres in India, customers from locations such as Laxmi Nagar, Ashok Nagar, and Saheed Nagar visit the Satya Nagar RichFeel centre. If you are travelling via bus, the closest bus stop is Forum Mart bus stop, and if you are taking the local train, then you can get down at the Vani Vihar station. Customers can also take a cab to reach the Satya Nagar clinic.
The RichFeel Advantage
India's most trusted Hair Care Brand as per Brand Trust Report
Special Patented pen from AHI London to create natural looking hairline and avoid pitting
Use of patented mechanized extractor to ensure minimal scaring
Awarded as India's best Hair Restoration Services provider by Frost & Sullivan
Treatment carried out by experienced and hair & scalp specialists.
1,00,000+
NUMBER OF HAPPY CUSTOMERS
Book an appointment
Please submit your details below.
Treatment provided at the center