At RichFeel, we perform hair transplant, non surgical hair restoration, Icecube Cool laser hair reduction, Anagrow, Anacover, Anagain and Ana-D-Tox treatment using the latest techniques. We are committed to delivering great outcome to our patients.
What is Hair Transplant
Hair transplantation is a surgical technique that transfers individual follicular grafts from a section of the scalp called the 'donor site' to a bald or balding section of the scalp known as the 'recipient site'. It is essentially used to treat baldness. The reason hair transplant technique is extremely successful is that the hair follicles are extracted with their roots, these roots are resistant to DHT, the hormone that causes balding. When executed accurately, the resulting hair growth after the procedure acts as natural hair. The 'Aesthetic Hair Implants- AHI' technique available at RichFeel's Indiranagar clinic is a remarkable hair transplantation method, and can be done on both men and women irrespective of their age.
How is it done at RichFeel
The 'Aesthetic Hair Implants- AHI' available at RichFeel's Indiranagar clinic is an advanced technique as opposed to the conventional Follicular Unit Transplantation (FUT) technique. The FUT technique is highly invasive and gives unattractive scars. In AHI, experts make use of a licensed mechanised extractor with tiny punches which speeds up the process by transferring a high number of follicular grafts in a short period. Thus, you can get the whole procedure performed in just one day.
Address
RichFeel Trichology Center, Indiranagar, Bangalore
Address : No 489, Chinmaya Mission Hospital Road, Cmh, 1st Stage Opposite Fabindia, Indiranagar, Bengaluru, Indira Nagar 1st Stage, Stage 1, Indiranagar, Bengaluru, Karnataka 560038, India
Phone : +917900082222
Email : [email protected]
Clinic Timings : Monday to Sunday 10:00 - 20:00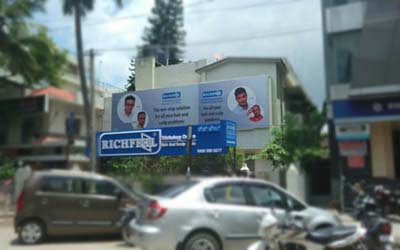 Book an appointment
Please submit your details below.
Hair Transplant Cost In Indiranagar
The amenities along with the utilised equipment and technology affect the value of the procedure to a high degree. Once you get a consultation done at the RichFeel clinic in Indiranagar, the specialist will help you determine the full cost of your treatment.
About Indiranagar Location
To arrive at our Indiranagar clinic, the location is No. 489, Chinmaya Mission Hospital Road, 1st Stage. The nearest landmark to the Indiranagar RichFeel clinic is Karnataka Bank. We are open seven days a week from 10AM-8PM. RichFeel has many centres in Bangalore, customers from locations such as Ulsoor, Eshwara Layout, and Defence Colony visit the Indiranagar RichFeel centre. If you are travelling via bus, the closest bus stop is Police Station Indiranagar, and if you are taking the metro, then you can get down at the Indiranagar metro station. Customers can also take a cab to reach the Indiranagar clinic.
The RichFeel Advantage
India's most trusted Hair Care Brand as per Brand Trust Report
Special Patented pen from AHI London to create natural looking hairline and avoid pitting
Use of patented mechanized extractor to ensure minimal scaring
Awarded as India's best Hair Restoration Services provider by Frost & Sullivan
Treatment carried out by experienced and hair & scalp specialists.
1,00,000+
NUMBER OF HAPPY CUSTOMERS
Book an appointment
Please submit your details below.
Treatment provided at the center