Festivities have begun! What a season to look forward to! And we all know that to nail our festive look, the right hairdo is the key! Wear what you want, but you know that it is your hair that's going to complete your special look!
One of the most beautiful and important accessories of human personality is our crowning glory, our hair! Beautiful and shiny hair, worn the right way, captures attention. However, behind such beauty and shine is thorough hair care and a healthy routine. This is one side of the coin. The other side is to ensure that you don't end up going the extra mile with hair trends, damaging your hair in the process!
In our last blog, we spoke about how you can keep your hair festive ready while ensuring that it stays healthy through this season; making sure that the next few months' agenda doesn't ruin your hair for the time ahead!
A balanced diet, adequate hydration, proper hair care, hair rejuvenating treatments and therapy under the guidance of a trichologist can work wonders for your hair. Hair Hydrotherapy, for instance, is one of the most recommended therapies to restore natural proteins and nourish the hair & scalp. We also recommend that you go as low as possible on the usage of styling equipment and chemical products. Using hairdryers, curling machines or flat irons, gels, frequent hair colouring, to look trendy, can cause harm and damage your hair. This is due to exposure to extreme heat. A quick visit to the Trichologist's clinic can guide you right on all this and more. Click here to read our last blog, if you haven't yet already, for some very pertinent information on the topic!
Our hair reflects our overall fitness and health. Those of you who follow our blogs know how much we emphasise on this! Hair is our body's barometer that indicates good health or the lack of it. A trichologist can help you understand your hair better and prescribe the right regimen & products for you for the upcoming months of hectic social calendar!
Now! Having given you tips and recommendations on hair care for the upcoming festive, party frenzy, we are here today to give you some great hairstyling tips, while you go dancing & partying! Hold on to these 5 hairdos and flaunt that chick look with beautiful damage-free hair this season!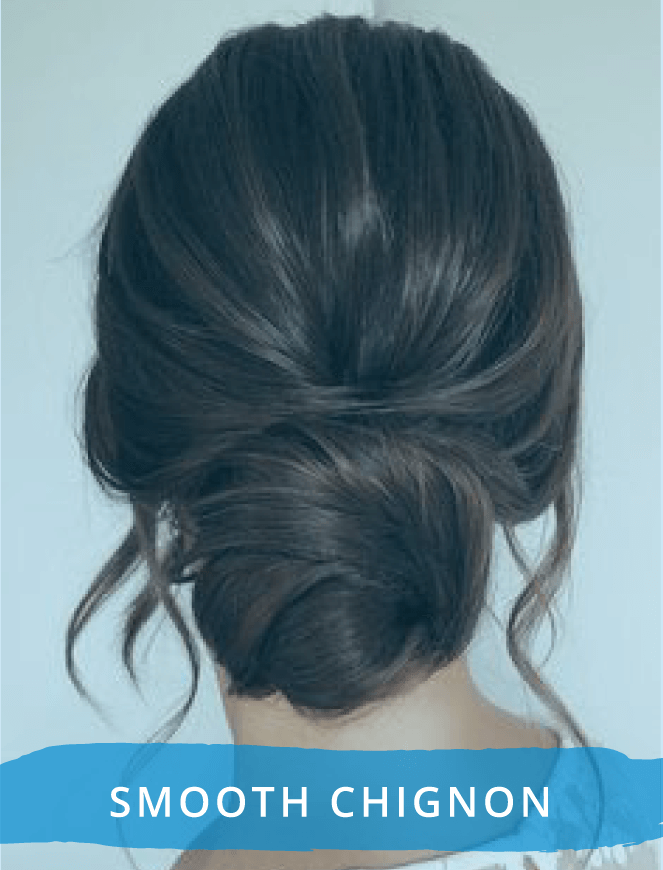 1. Smooth Chignon
Chignon hairstyles aren't as hard as you may think. They are not only easy to master on your own but are also considered a safe and healthy match for any occasion.
How to tie a perfect chignon?
Part your hair down the middle or pick a side for the chignon to rest on.
Grab all of your hair, make a loop and tie the smoothed-down hair into a loose knot.
Wrap one side around and secure the loop at the base with hairpins. Repeat the same for the other side.
Ensure a neat finish to let this hairdo last all day long!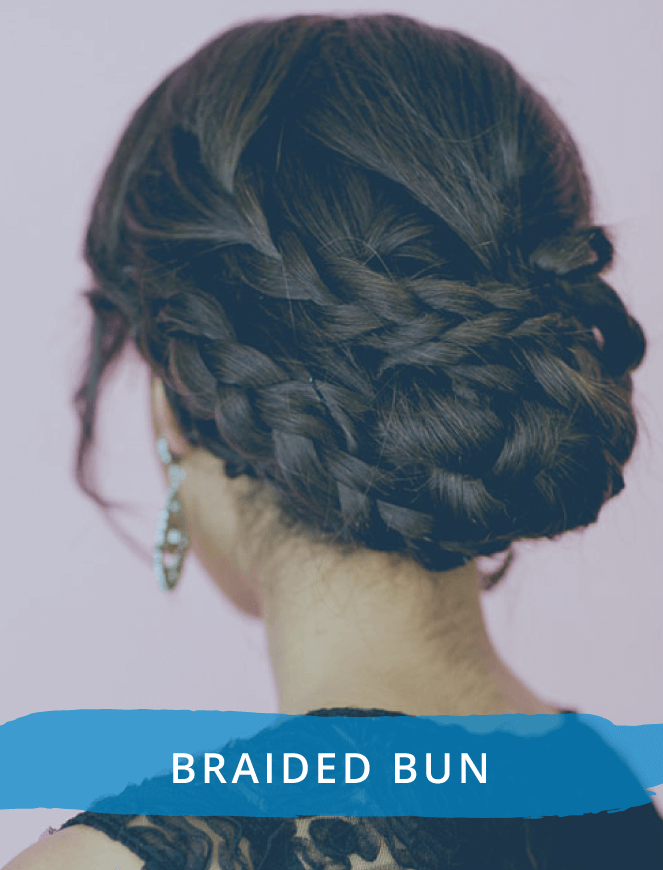 2. Braided Bun
If you are someone who's looking for a hairdo that doesn't compromise on your style while keeping your hair health intact, here's the perfect style for you – Braided Bun! As easy-breezy as it sounds, this hairstyle is fuss-free and doesn't require any special assistance.
How to tie a stylish Braided Bun?
Take your hair section by section and twist them around the tong for some time to get delicate waves.
Once done, divide hair into two sections; one at the front and rest into a loose ponytail at the back.
Twist the ponytail around itself and start plaiting the front part in two simple braids.
Pull the ends one around the other under the bun and secure them with hairpins.
Ensure the outcome doesn't look too stiff and shine through!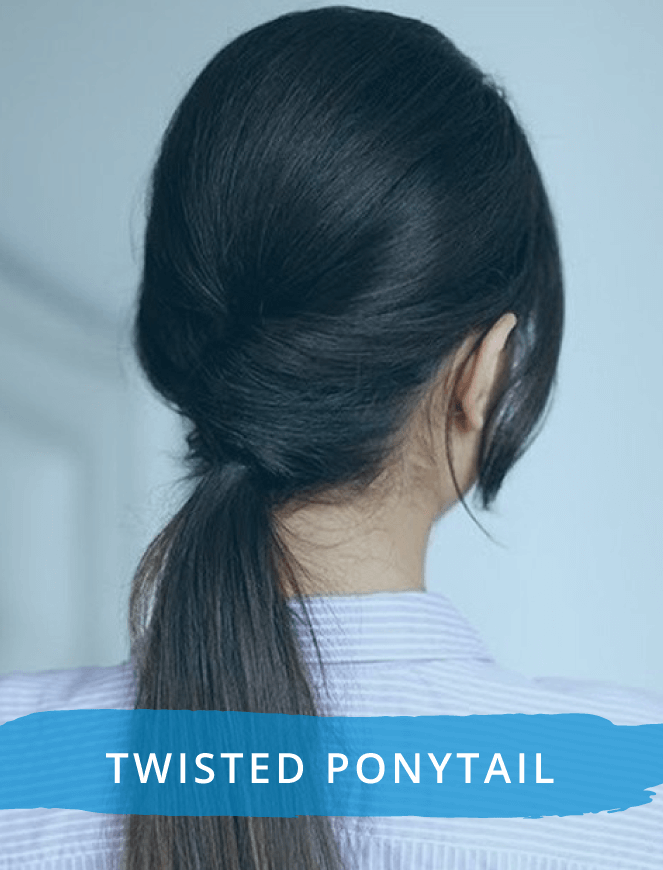 3. Twisted Ponytail
Here comes the best remedy for a bad hair day! An absolute easy, quick and widely loved hairstyle is the Twisted Ponytail. Not just a hairdo to enhance your look, this is also a great go-to hairstyle for any length of hair!
How to tie a Twisted Ponytail?
Choose any side and clip away two sections of your hair.
Tie the rest of the hair in a ponytail and separate the first section in three equal parts.
Go on twisting your hair up till you can wrap it around the ponytail.
Repeat the same for the other section and secure the ends with hairpins.
You can even curl your hair slightly before wrapping it around the ponytail to hold your hairstyle in place for a longer time.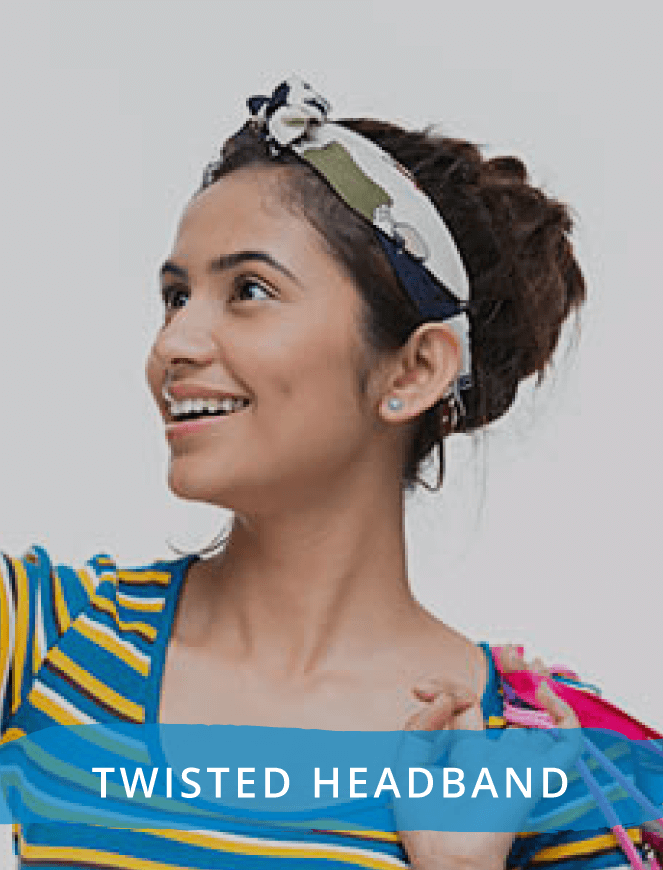 4. Twisted Headband
A headband for yourself? Sure! Twisted headbands are one of those easy to make cute accessories out of fabric that can pull off any look, any day!
How to tie a Twisted Headband?
Fold your scarf into a triangle and continue folding it over until you create a long, thin band out if it.
Wrap the folded scarf around the back of your head keeping the length of ends equal and holding them out in front.
Let these ends come together and cross at the top of your head. Give it a twist thereby letting both latch together.
Wrap this around toward the back of your head and tie a single knot to secure the ends.
Voila! What a perfectly tied headscarf to carry that chic look wherever you go!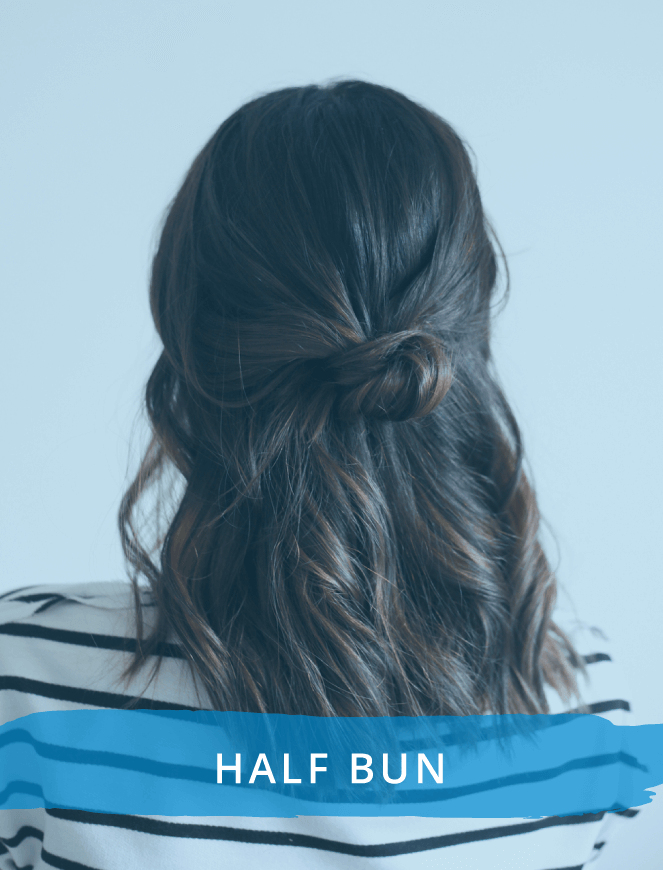 5. Half Bun
Thinking about wearing a hairstyle that is comfortable and will last through the day or while party-hopping? Your answer lies in just two words – Half Bun! Perfect for any occasion, a casual day at work, college or a fancy date night, Garba night, Diwali or christmas party, pick this half updo and you are all set!
How to tie a cool Half Bun?
Tie half of your hair into a ponytail and make the base for your half-bun.
You can even curl your ponytail in order to add more bounce and oomph to it.
Divide half ponytail into three equal sections. Twirl the sections into mini buns, roll up and secure them near the base of your ponytail with hairpins.
Tug and mess around the bun with your fingers to get the edgy look. Ensure you don't tug it so hard that the whole bun just falls apart.
Set the hairstyle in place and head out for a rocking day!
There you go! 5 awesome hairstyles to get you looking your best while being guilt-free of hair damage.
Hair is your crowning glory in every sense. So do invest time and effort that it needs. Stay aware, watch out for signs – your body may be signalling trouble from within. Consult a trichologist and discuss your lifestyle, your diet, your needs, your hair's condition. Get the right guidance on how to care for your hair, the right products for you, hair supplements, if need be and much more advice from him/her.
Hope this article was helpful in bringing to your notice some trendy hairstyles that can keep hair damage away. Hook onto our blogs for more of such interesting topics on hair trivia, hair care, treatments and therapies.
Remember, we are just a click away. You can book an appointment with our expert Trichologists at your convenience and get rid of all your hair-related concerns and worries. Don't have any worries? Then keep it that way, by following our bits and pieces on all things hair, on our social media handles!